Fourth Annual 'Dash in the Dark' kicks off cross-country season
Submitted by Steve Ognibene on September 7, 2013 - 8:12am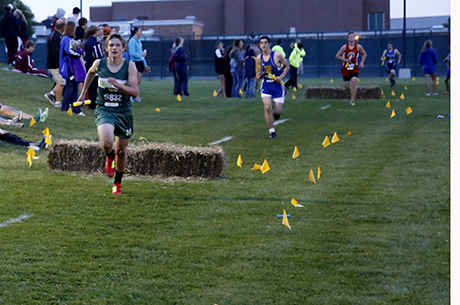 Since its inception in 2009 with only eight schools and 100 participants, the 2013 Dash in the Dark has increased its size to 29 schools from all over WNY including Section 5, 6 and one school from Erie, Pa.
Oakfield-Alabama is the host to the "kickoff of the cross-country season" said Coach Rich Boyce of Batavia. There are four races in a relay format with three team members that run two miles each. There are some obstacles like those shown above -- hay bales and dark areas around the course. Each participant carries the baton and passes it off. Team members from Sweet Home in Section 6 pictured below.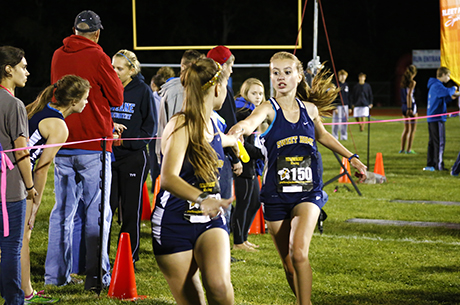 Average race typically last about an hour. Stadium, portable, lighted towers and strobe lights were off in the distance used to help shine some light on the path.
Pictured above / below is the girls varsity race, which had about 170 runners in the event with 57 teams total. Boys varsity had similar numbers.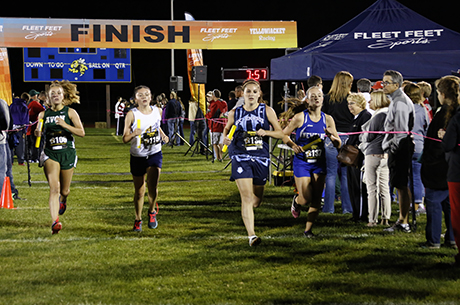 Girls JV had 29 teams and Boys JV had 63 teams participating. There were two divisions split between large and small schools.
Large School Division: Albion, Batavia, Canandaigua, East Aurora, Gates-Chili, Grand Island, Lancaster, Orchard Park, Pittsford-Mendon, Starpoint, Sweet Home, and Webster-Schroder.
Small School Divison: Alexander, Attica, Avon, Byron-Bergen, Charter School for Applied Technology, Geneseo, GOW School, Holley, Kendall, Mercyhurst Prep, Mount Morris, Mount St. Mary Acadamy, Newfane, Nortre Dame of Batavia, Oakfield-Alabama, Wayland Cohocton, and Wheatland-Chili.
Winners of each race are pending results.
Photos and story submitted by Steve Ognibene.