Sponsored Post: Salsa & Curry Grand Opening!
Submitted by Lisa Ace on October 25, 2012 - 12:45pm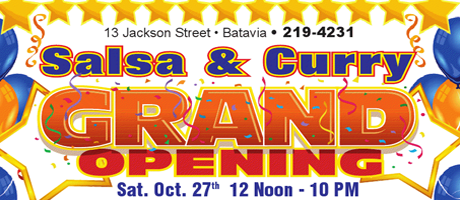 Join us this Saturday for our Grand Opening from 12 noon - 10 p.m.!
First 25 customers win a meal gift certificate (some restriction apply)
99¢ Select Beers - with any food or appetizers only!
Sign up to win a gift card from one of the following retailers - West Main Mini Mart, Mr. Wine & Liquor, The Mane Attraction, Great Kutz, & much more!
Mariachi Band
Specials all day long!
10% off all Mexican & Indian dishes!
Sample Indian Pizzas and Chicken Wings - FREE!
$6.99 All Day Indian Buffet!
Now Serving Wine & Margaritas!
Visit us on Facebook: https://www.facebook.com/salsa.curry?fref=ts or http://www.salsancurry.com/
October 25, 2012 - 5:36pm
#2
This place is INCREDIBLE! Very friendly service