Sponsored Post: City Slickers All-American Photo Contest
Submitted by Howard Owens on July 4, 2012 - 12:18pm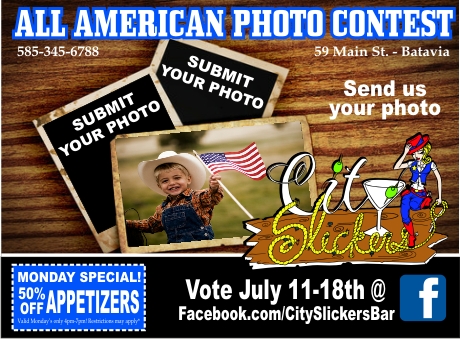 SUBMIT YOUR PHOTO: Email a photo by July 10th of you or a loved one showing American pride, to CitySlickersPhoto@gmail.com. It could be enjoying your favorite American pastime or even just something that you're proud to have the freedom to do (sports, fishing, family picnic, hanging by the pool, etc).
Starting July 11th, w
e will then gather all the photos and post them in a photo album on our Facebook page, facebook.com/CitySlickersBar. Get your friends and family to "like" your photo. The photo with the most likes on July 18th at 5 p.m., will be the winner of a gift card and T-shirt package! All ages are invited to participate in this contest!
Keep your eye out for karaoke, bands, and a live country DJ starting next week!
Great place to get some great food!