Some pigs perish in hog farm fire in Darien
Submitted by Howard Owens on March 8, 2012 - 11:39pm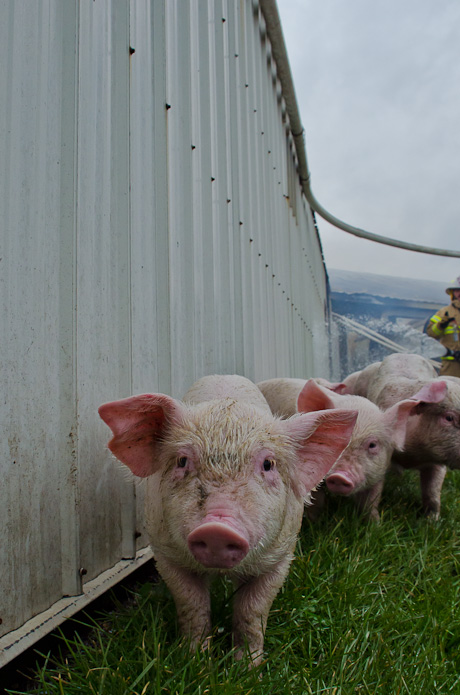 Firefighters did their best Thursday to try and save dozens of pigs caught in a barn that burst into flames at about 1:30 p.m., but some piglets were killed, according to officials.
A quick response by Darien and Corfu firefighters along with a State Trooper helped keep the fire from spreading north in the barn and destroying more animals.
Willow Ridge Pig Farm, owned by Charlie Miller, housed at least 1,000 pigs, but the number killed is not yet available.
The fire apparently started in the nursery, but the cause has not yet been determined.
Some pigs from the burned structure were moved to other barns on the property, and some pigs were relocated to climate-controlled facilities at other barns.
After the fire was largely knocked down, more than two dozen piglets were carried out of the nursery by firefighters. They were covered with soot and Indian Falls Chief Ed Mileham feared some were overheated, so he sprayed them with water.
Miller's staff then put the piglets in another barn.
One firefighter familiar with hog farming and Miller's facility said normally people not wearing protective garb would not have access to the young pigs. The animals who survived the fire may yet be susceptible to disease.
Besides Darien, Corfu and Indian Falls, responding to the scene were Pembroke, East Pembroke, the Town of Batavia, Attica, Alexander, Bennington, Oakfield, Akron, Alden, and Crittenden, and the city's Fast Team.
Darien Fire went back in service at 5:26 p.m.
(Initial report, with more pictures)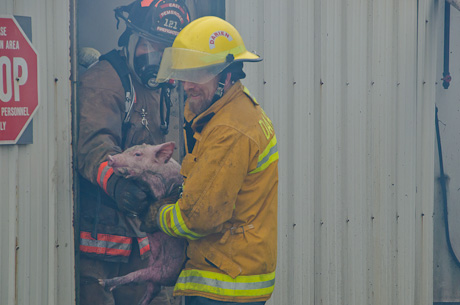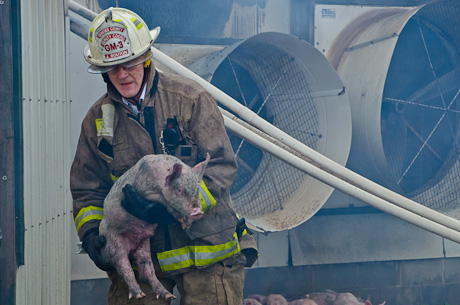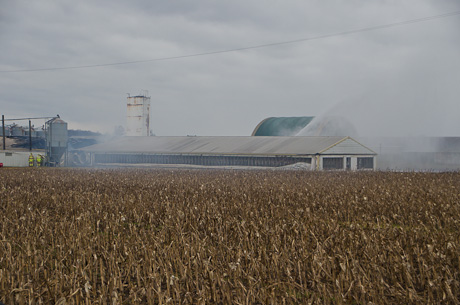 March 9, 2012 - 1:42pm
#2
what a precious picture! those pigs are so cute!