Photo: First new permitted vendor downtown opens hot dog stand
Submitted by Howard Owens on July 24, 2012 - 9:37pm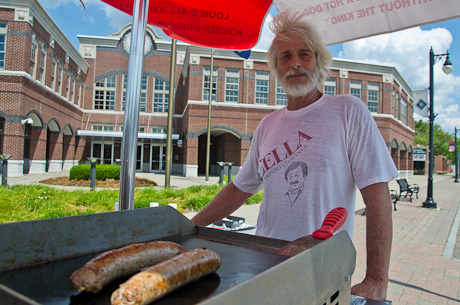 Robert Brown, an Albion resident, stands with his hot dog cart outside Batavia City Hall on Tuesday afternoon.
It's been about a decade since the city has approved permits for street vendors, but recently decided to start issuing them again.
Brown and his partners jumped on the opportunity and were the first vendors approved for a permit.
They've been running hot dog carts in Orleans County for a number of years.
"We found out the city was going to allow street vendors," Brown said. "It's been a while since it's been allowed, but we thought this would be a great city (for a hot dog cart)."
The hot dog stand opened on Friday and Brown said he and his partners will operate the cart from 11 a.m. to 4 p.m. Monday through Friday offering hot dogs, hamburgers and sausage.
August 11, 2012 - 10:08pm
#4
Did Batavia really need another Hot Dog vendor? We already had a real good one on Center St... now today there were two more in close proximity [in front of City Center, and at the southeast corner of the Save-A-Lot parking lot (Jackson & Ellicott)]
I'm all in favor of free enterprise, yet I also support allegiance to those who have served us well and for a time.
So what is the city trying to accomplish? An ever increasing variety of food service outlets to take care of the [not so large, and shrinking] general public who frequent these places? Or an ill-conceived money grab from whomever they can bring in, at the detriment of the long standing community regulars?
This reminds me of when Quiznos [a new sub sandwich shop] was approved to move in, just 2 doors away from Cookie's Deli [one of the area's two very long standing, premiere sub shops] daaaaaaaaa??? In no time Cookie's closed it's doors. Not long after Quiznos was gone too.
This city has never understood good planning, and I doubt it ever will.