Neighbor rescues two dogs from burning home on River Road, Pavilion
Submitted by Howard Owens on June 12, 2012 - 11:09pm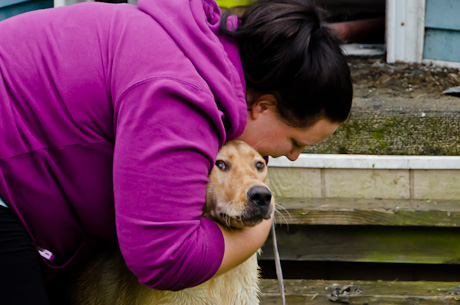 Two dogs on River Road were rescued today from a home on River Road, Pavilion, after a fire ignited in the back of the manufactured home while the tenants were not home.
Steven Barnhardt, a neighbor, opened the unlocked front door, and even though the ceiling had black smoke rolling over it, entered the house, let the dogs out of their cages and then yelled to see if anybody was in the house.
"There was black smoke and flames coming out the back window and as soon as I got out, it started coming out of the roof," Barnhardt said.
The fire appears to have started in a rear bedroom and was possibly related to an electrical issue, though no appliances were believed to be running at the time the fire started.
Besides the dogs, two cats were saved, though as of 6 p.m., one was still missing.
While the dogs ran off from the fire scene, they returned later and were reunited with their owners.
The residence is owned by Matthew Janis and his tenants were Cory Harkness and Chelsea Zeluff.
Pavilion Chief Paul Dougherty said that even though the response was quick and most of the house was saved, given the type of construction, it's probably a total loss.
"It's probably easier to move another manufactured dwelling here than reconstruct this one," Dougherty said.
The property is valued at $61,000.
Dougherty said the black smoke from the fire was visible from some distance away and when chiefs arrived on scene, there was fire coming from two back windows and from under the eaves.
The biggest difficulty firefighters faced was the flimsy nature of the floor of the manufactured house.
"A hole was already burned through the floor in one of the rooms," Dougherty said. "Fortunately, there is no basement, so the first guy or two just kind of settled through the floor and they were able to to get themselves out and continue with the suppression."
Mutual aid at the scene included Stafford, Bethany, Batavia's Fast Team, Le Roy, Alexander, Lester, York, Perry, Perry Center and Wyoming.
Dougherty said due to the lack of public water in the area, Pavilion needed the assistance of several of the surrounding department's tankers and crews to help with the water supply.
Genesee County Emergency Services assisted at the scene and with the investigation.
Deputy Brad Mazur is assisting in the investigation.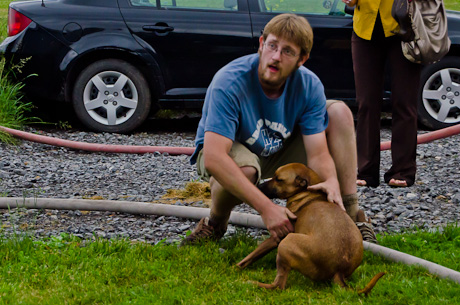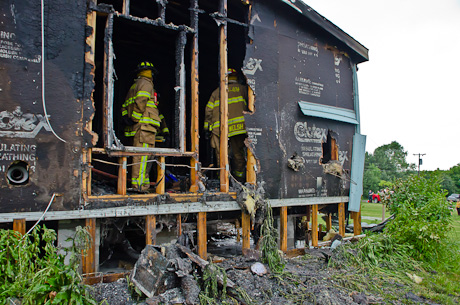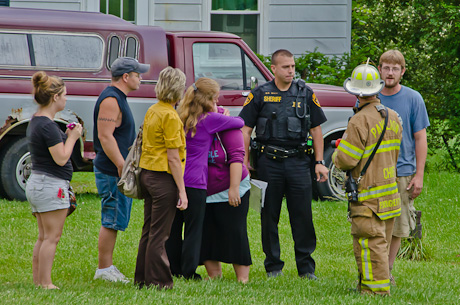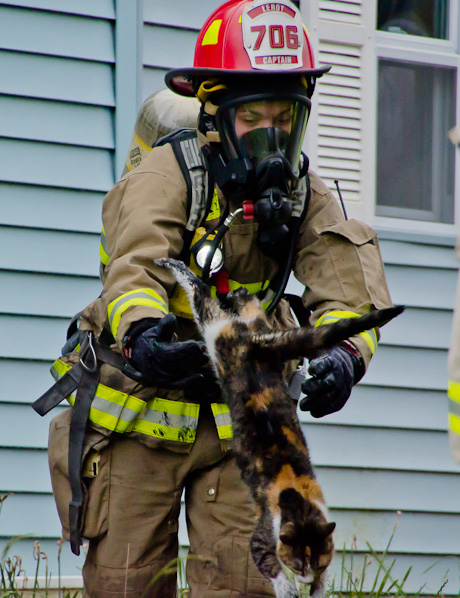 June 13, 2012 - 9:30am
#4
Cory and Chelsea are two of the nicest young people I know. They just moved into that house last fall and are set to be married in a couple of months. This is a big setback for them but already family and friends are helping to get them back on their feet. I am so grateful no one was injured.