Possible house fire on Telephone Road, Pavilion
Submitted by Billie Owens on October 9, 2013 - 1:31pm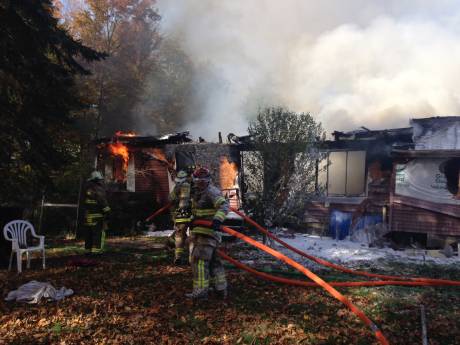 A possible house fire is reported at 7635 Telephone Road. The homeowner called dispatch and said the house was full of smoke. Pavilion Fire Department is responding along with mutual aid from Le Roy. The location is between South Street Road and Asbury Road.
UPDATE 2:34 p.m.: The first responder says "I've got a lot of smoke." A second platoon is called.
UPDATE 2:35 p.m.: Mercy medics are also called along with mutual aid from Stafford, which is sending a tanker to the scene and a fill-in crew at Pavilion Fire Hall. The occupants are out of the home. The first floor is fully involved.
UPDATE 2:43 p.m.: Bethany is responding, too. National Grid is called. A power line is down and dangerously close to firefighters -- "about five feet away."
UPDATE 2:50 p.m.: Bergen is called as well as Town of Batavia. Caledonia, which is to fill in for Le Roy, will also be asked to help access or set up apparatus to aid the firefighters.
UPDATE 2:53 p.m.: National Grid is asked to expedite the response because "there are power lines down all over the place.
UPDATE 2:56 p.m.: National Grid has a 15-minute ETA. Firefighters can't access part of the structure until power is shut off. "There's a power line right in front of it, can't access the east side at all."
UPDATE 3:01 p.m.: National Grid is on scene.
UPDATE 3:04 p.m.: Wyoming County dispatched Perry to the scene. The power is cut off.
UPDATE 3:10 p.m.: Firefighters are told there is gunpowder inside the home along with guns and propane cylinders.
UPDATE 3:21 p.m.: Alexander is on scene.
UPDATE 3:41 p.m.: The American Red Cross is called to provide emergency assistance to one adult. Churchville is called to fill in at Le Roy's Fire Hall.
UPDATE 4:12 p.m.: Inmates from the Wyoming Correctional Facility are being transported to the scene to help.
UPDATE 4:20 p.m.: Brothers James Lawrence Bearce and Kenneth Vincent Bearce lived in the house, along with a couple of dogs, which they saved. Along with brother Jack, they were traveling musicians years ago and had a recording studio in the structure. Ken said he's not sure how much of their inventory of recording tapes are salvageable, ditto for tools that were kept in the basement.