Big barn fire on Route 20, west of Francis Road, in Bethany
Submitted by Billie Owens on March 13, 2013 - 3:13am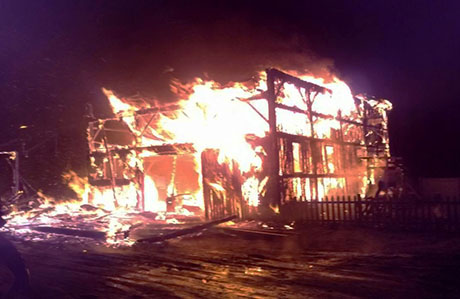 The second alarm is called for a fully involved barn fire in Bethany at 4658 Route 20, just west of Francis Road. A deputy there reports black smoke billowing from the barn. The road will be shut down. The Bethany chief is on scene and all equipment from his department is called in.
Mutual aid is requested from Darien, Alexander, Attica, Town of Batavia, the city's Fast Team, and the Village of Wyoming. Stafford is called to stand by in Bethany's fire hall. The city's first platoon is called to stand by in headquarters.
The occupants are out of the house. Power is shut off in the barn. Vehicles have been removed from the property. The propane tank is also shut off.
UPDATE 3:34 a.m.: Westbound Route 20 is shut down at Texaco Town (the junction of routes 63 and 20).
UPDATE 4:01 a.m.: Command reports the fire is under control.
UPDATE 4:45 a.m.: The town and city units from Batavia have returned to quarters. Wyoming responders are released.
UPDATE 6:39 a.m. (by Howard): For the past 45 minutes or so, mutual aid departments have been going back in service. Bethany remains on scene. Photo: Reader submitted photo.