Staffing agency enthusiastic about working with locals and manufacturers
Submitted by Bonnie Marrocco on October 17, 2013 - 9:01am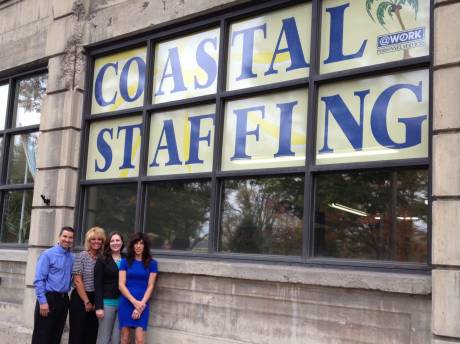 Regional Sales manager Steve Ferraro, Branch manager Tammy Underhill, Staffing coordinator Ashley Paganello and Account Sales executive Nancy Gilmartin.
Coastal Staffing has expanded from Florida to Buffalo, Rochester, Avon and now its newest office within the Harvester Building in Batavia.
Regional Sales Manager Steve Ferraro says the company specializes in temporary and long-term staffing solutions. He believes that Coastal has found the perfect place to set up shop.
"With all the manufacturing companies right in our backyard, immediate business development is available," Ferraro said. "We are excited to be in Batavia and look forward to arranging staffing for manufacturers, as well as hiring skilled laborers and administrative personnel.
Coastal Staffing has been around for more than 20 years and originated in Naples, Fla. They help employers find staff and individuals find employment.
"A company requests staff and our office finds the right candidate. We take care of the interviewing and paperwork -- including tax forms, payroll and workers compensation," Branch manager Tammy Underhill said. "The company doesn't have to worry about anything, because we take care of everything."
Coastal Staffing believes it this their "personal touch" that sets them apart from competitors.
"When an individual is looking for a job, most agencies will have them complete an online application process," Underhill said. "We want to interview people face-to-face and get to know them personally so we can provide solutions for their specific needs.
Staffing coordinator and Batavia native Ashley Paganello, along with Account Sales executive Nancy Gilmartin will run the office Monday through Friday from 8 a.m. to 5 p.m. Services for job-seekers are always free of charge.