Don Carroll leaves a legacy of generosity
Submitted by Bonnie Marrocco on September 26, 2013 - 6:33am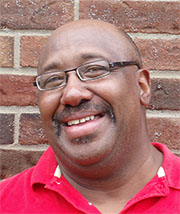 Batavia resident Donald R. Carroll dedicated himself to his community and spent most of his life helping youth in Genesee County: He lived by his motto, "Pay it forward." He is well known in Western New York for his charity work, which has raised thousands of dollars for many young residents of Genesee County over the last 30-plus years.
Carroll was diagnosed with esophageal cancer last March and succumbed to the disease Wednesday morning. He was 58.
A former employee at Angelica Healthcare, he stopped working after his diagnosis, but he continued to devote his life to raising money to buy toys for his yearly Christmastime party for children in need.
"Don was a very humble man who truly believed in paying it forward," said Jerry Foster, his sixth-grade teacher, lifelong friend and helper with Don's various charity efforts, including the annual 5K run and Toys for Kids.
"His personal life experience and the lessons he learned from his aunt who raised him, made him the man we all knew. Right up to the end he was concerned about missing this year's Toys for Kids toy distribution party. It was always an emotional time for him, a person who definitely knew the meaning of the words poverty, compassion and caring."
Carroll graduated from Oakfield-Alabama Central School in 1974. Instead of following the trend of going off to college after getting his diploma, Carroll decided to join the workforce and focus on his passion for helping less fortunate children.
He was born in Kansas City, Kan., but he and one of his sisters ended up being raised by an aunt in Oakfield after losing both parents at an early age.
"I lost my parents when I was 5 and people were very generous to me and my sister at Christmastime. That's something I never forgot and that's why I do it," Carroll said. "I strongly believe all of us become who we are because of life experiences and the way we react to those experiences. We can pick up the ball and run with it, or we can fumble our way through life. I chose to run."
For his first organized project, he partnered with the Genesee/Wyoming YMCA to raise money to send kids to camp. The fundraiser was successful for 23 years.
Shortly after the camp fundraiser, Carroll switched his focus to helping students with college expenses. He started a 5k and 10k run in Batavia to support the Genesee Community College Foundation.
Carroll collaborated with the YMCA over the years on many different occasions; most recently they combined efforts for Don's Secret Santa fundraiser to give gifts to children at Christmastime.
Carroll wanted to ensure that underprivileged children would not be disappointed on Christmas morning. This project has recently been expanded to provide grade-school kids with supplies for school and winter coats.
Despite preferring to achieve results rather than garner recognition, Carroll received numerous awards and certificates for his humanitarian efforts. In 1997 Carroll was named Geneseean of the Year by the Chamber of Commerce and he was inducted into the Oakfield-Alabama Central School Hall of Fame in 2009.
MVP Health Care awarded Carroll the Ultimate Game Changer in 2012. The contest was looking for people who make a significant difference in their communities by making them better, healthier places to live.
"All of the game changer finalists are examples of the kinds of everyday heroes MVP wanted to celebrate," said Denise Gonick, MVP's president of Operations. "Don's story, especially, is wonderfully inspiring. Despite all the hardship in his life and, now, his illness, Don has never stopped giving back and paying it forward. It's a reminder that wherever you are, whoever you are, you can make a difference."
Foster now serves as a member of the fund committee, which has a mission to carry out Carroll's last wish.
"His main thing when I talked to him was, he wanted to make sure the kids' party goes off in December," Foster said. "I promised him it would."
The committee will discuss how to proceed with fundraisers, including the Donald R. Carroll 5K that has been part of Summer in the City each year.
Carroll didn't want to be the center of attention, so he requested that there be no calling hours and no memorial service, Foster said.
"A Celebration of Don's Life" will be held instead at 7 p.m. Monday at Grace Baptist Church, 238 Vine St.
He is to be cremated and his ashes spread on his Aunt Ruth Anderson's grave at Hillside Cemetery in East Pembroke.
Memorials may be made to the Donald R. Carroll Toys for Kids Fund, care of Grace Baptist Church, 238 Vine St., Batavia, NY 14020.
September 26, 2013 - 8:24am
#4
Very sad indeed. The first race I ever ran was his race at the college. Such a well run organization and always an amazing turnout. I am glad his suffering is over and now he can direct us from above. No one can fill his shoes, but we all can carry on his message!