Submitted by Howard Owens on October 18, 2013 - 11:06am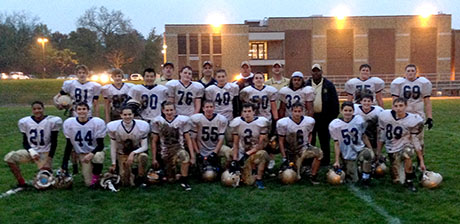 Information and photo provided by John Borrelli.
The JV football squad for Notre Dame beat Alexander yesterday to finish out the season with a 7-0 record.
If the varsity beats Attica tonight, it will be the first time in school history that both JV and varsity went undefeated in the same year.
The team is comprised of the following players and coaches: Peter Daversa, James Farmer, Larry Infantino, Connor Logsdon, Casey Midwick, Chris Morris, Michael Muehlig, Ethan Osborn, Charlie Stevens, Jack Sutherland, Robin Zhang, David Bohn, Freddie Cunningham, Carson Decarlo, Isaiah Flow, Jordan Lyons, Brad Misiak, Tyler Reese, Jake Weatherwax, Jordan Weatehrwax, Caleb Wolcott, Jimmy Zickl, Nico Zambito, Head Coach John Borrelli, Assitant Coaches Chuck Tomaszewski, Bill Sutherland, Bob Zickl, Otis Thomas and Mikey Rapone.