Submitted by Howard Owens on January 4, 2013 - 4:06pm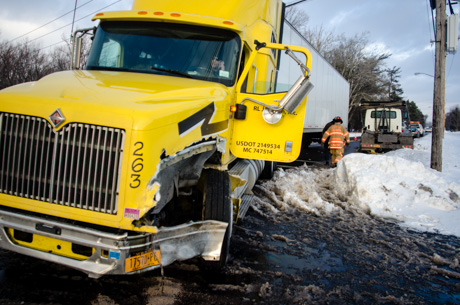 Traffic is being diverted off Clinton Street to East Avenue while Batavia PD deals with a two-car, non-injury motor-vehicle accident.
Batavia Fire Department is requested to the scene.
UPDATE 4:23 p.m.: Initial indication is a town snow plow was stopped southbound on Clinton and was allowing a Haul-4-Less truck to make a left-hand turn from East Avenue onto Clinton. A semi coming up behind the plow truck may not have seen the plow truck stopped and tried going around the plow truck, hitting the Haul-4-Less truck. No injuries. Heavy wreckers had to be called in for the disabled trucks and traffic was blocked in both directions.
Related, local law enforcement officers are currently working a handful of property damage accidents in various parts of the county. All seem to be weather related.