Submitted by Howard Owens on January 2, 2013 - 12:50pm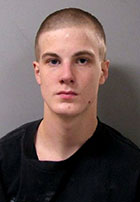 An alert neighbor spotted a potential burglary in progress on Washington Avenue on Tuesday leading to the arrest of a man police suspect may have been involved in other break-ins in the city.
Francis S. Smith, 19, of 20 S. Main St., Batavia, has been charged with burglary in the second degree and investigators are working to determine whether he may have been involved in other larcenies.
Smith is being held on bail in the Genesee County Jail.
His arrest followed a report of a burglary in progress about noon on Tuesday. Police responded, surrounded the residence and officers entered the residence and found Smith allegedly involved in a larceny of property from the residence.
A reader who was in the area at the time of the incident told The Batavian this is what he saw:
"The cops were yelling to someone inside to come out with their hands up. The man inside the house came out a second-story window on top of the porch roof. At that time the police drew their guns and ordered him to freeze and put his hands up. They brought the man back into the house and out the front door before putting him into the police car."