Washington takes control in 4th to help the Blue Devils defeat Hornell
Submitted by Nick Sabato on March 7, 2013 - 9:37am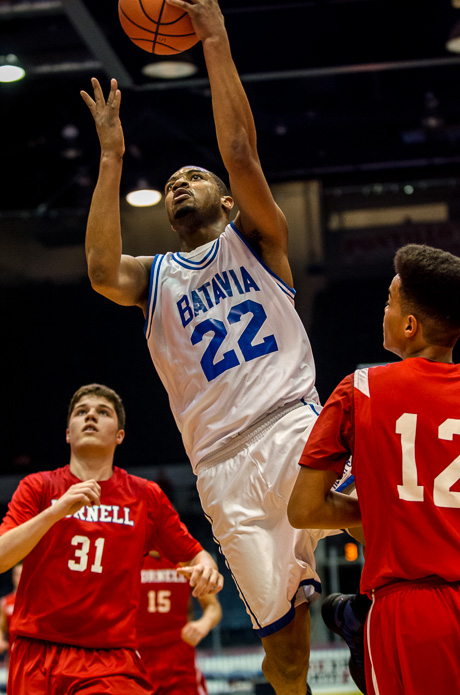 Batavia used a 21-4 run over the final five minutes of the game to defeat Hornell and advance to the Class B Far West Regionals, 65 to 51.
The fourth quarter belonged to Batavia senior forward Justin Washington, who scored eight points and grabbed eight rebounds in the final frame alone.
Washington entered the quarter with only six points and having sat the majority of the third quarter with three fouled. But when he reentered the game, he immediately took over.
"(Washington) took the game over. Plain and simple," said Batavia Head Coach Buddy Brasky. "I think he just decided it was time. He pretty much just took the game over, put us on his shoulders and carried us home."
In the first half it was a different story for the Blue Devils, who jumped out to an early lead behind an unexpected source.
As Washington and Jalen Smith struggled to find their stroke in the first half, it was senior T.J. Powell who stepped up and delivered.
Powell scored all 13 of his points in the first half, while grabbing six rebounds, to give Batavia a 30 to 24 halftime lead.
"T.J. was tentative in the Newark game and we talked about it in practice," Brasky said. "I told him to go out and be aggressive. I told him tonight is going to be your night and that was key. That's the T.J. we need."
Hornell began to cut into Batavia's stingy defense during the third quarter, outscoring the Blue Devils 18-12 in the period, and eventually tied the game on a three-point field goal from Richard Brooks with just under a minute to play in the quarter.
"We weren't sprinting back on defense," Brasky said. "Their secondary break killed us. We were jogging back and they took advantage."
The two teams headed into the fourth quarter tied at 42 and traded baskets before Brooks hit another three to give the Red Raiders the lead before Smith and Washington began to take over.
Smith had been struggling from the field all evening, going just 7-of-20 from the field and 2-for-13 from three point range for the game, but he began to take over in other facets.
The senior came up with three assists in the quarter, one on a gorgeous pass to sophomore Jeff Redband for an easy lay-up that forced a timeout.
"I trust my teammates to score, too," Smith said. "I can't score all of the points and my teammates help out a lot. They play hard and we all play together."
Washington scored the first two baskets of the quarter for Batavia, and had matched both his point and rebound total for the entire game in the first four minutes of the frame.
After Hornell had taken a 47-44 lead, the Blue Devils went on to score the next 12 points during their 21-4 run to end the game. In total, Batavia held the Red Raiders without a point for nearly four minutes.
"Our team handles pressure very well," Smith said. "We stuck together as a team, we played hard, we kept our confidence and we all stuck together."
Smith would finish with a game-high 25 points, including several key free throws down the stretch to ice the game for Batavia (19-3).
Washington chipped in with 14 points, 14 rebounds and two steals for the Blue Devils, who will face the state's top-ranked team on Saturday in Olean.
The Huskies defeated East High School of Buffalo on Tuesday to win the Section VI championship, 62-50.
They are led by 6-foot-7 junior forward Sam Eckstrom, who notched his 1,000th point in the win and senior guard Wil Bathurst who scored 27 points, grabbed 19 rebounds and blocked six shots.
"Olean is the number-one ranked team in the state," Brasky said. "We played them last year. We have everybody back and they have everybody back. They are just a solid team."
The Blue Devils defeated Olean in their own tournament last year, 56-43. The Huskies would win their next 21 games before falling in the State Semi-Finals.
Tip-off is scheduled for 4:30 p.m. on Saturday at the Blue Cross Arena.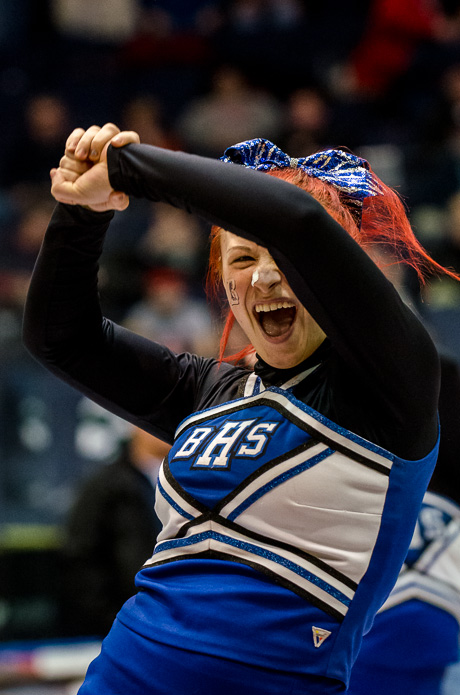 To purchase prints of photos, click here. To purchase prints of earlier Blue Devils games (boys and girls basketball, click here)