Two local football teams hope to continue their seasons this weekend
Submitted by Nick Sabato on November 1, 2013 - 2:25pm
#4 Le Roy Oatkan Knights (7-1) vs. #1 East Rochester/Gananda Bombers (7-1)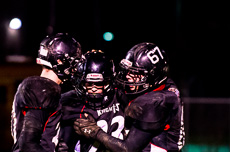 Class C Semifinal, 2 p.m. Saturday at Caledonia-Mumford
The Le Roy Oatkan Knights take on top-seeded East Rochester/Gananda in pursuit of their eighth Class C title game berth since 2001.
Senior running back Peter Privitera led the Knights to a 26-12 victory over Dansville last week in the quarterfinals. Privitera rushed for 115 yards on 28 carries and two touchdowns in the win.
The Knights' ground game also rushed for over 200 yards for the fifth time this season, as junior Tom Kelso also chipped in with 95 yards.
Le Roy has the ability to grind it out on the ground as they did last week, rushing for 232 yards, or they have the ability to move the ball through the air.
After getting off to a shaky 1-for-8 start a week ago, junior quarterback Mike McMullen recovered to go 4-of-6 for 70 yards and two touchdowns in the second half. He also eclipsed the 20-touchdown mark last week and currently has 21 touchdown passes this season.
Ryan McQuillen continues to make plays for Le Roy, as he has accounted for 14 total touchdowns this season. On offense, 11 of his 22 receptions have resulted in touchdowns and he has 367 receiving yards.
Top-seeded East Rochester/Gananda also comes in with a balanced attack after beating Elba/Byron-Bergen, 34 to 6.
Quarterback Zach Hauser has thrown 15 touchdown passes this season, including a 7-for-13 performance last week that netted him 135 yards and a touchdown.
Andrew Fischer was once again Hauser's favorite target. After catching nine touchdown passes in the regular season, Fischer had four receptions for 92 yards last week.
The ground game continued to be solid also, as Jake Miller ran for 122 yards and two touchdowns.
East Rochester/Gananda is searching for their first sectional championship since 1985.
Final note: Both teams have balanced offenses, whoever can remain balanced for the majority of the game, should advance. If Le Roy gets an early lead, they will undoubtedly use their running game to control the ball and the clock.
#3 Alexander Trojans (7-1) vs. #1 Clyde-Savannah Golden Eagles (7-1)
Class D Championship Game, 1 p.m. Sunday at Sahlen's Stadium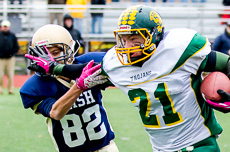 The Alexander Trojans look to take home their first sectional championship in school history as they take on top-seeded Clyde-Savannah on Sunday at Sahlen's Stadium.
Alexander comes into the contest at 7-1 after going only 6-18 in the last three seasons.
"We knew this was going to be our last year and seniors have worked really hard," said Alexander running back Dylan Scharlau. "We have been in the trenches fighting against bigger and better players since we were freshmen. Now as seniors, we know it's our time."
Scharlau racked up 161 yards on 30 carries and a touchdown en route to a 28-0 upset win over Notre Dame last week, avenging an early season loss. The senior is averaging 182 yards per game this season and has found the end zone 17 times.
"You can always leave one kid for [Scharlau], because he'll shake the first one and run over the next two," said Alexander Head Coach Tim Sawyer. "He doesn't put the ball on the ground and he's a tough kid. I'm glad he is on my team."
The Trojans have also gotten solid play from another senior, quarterback Nelson Burke.
Burke has completed 37-of-73 passes 594 yards and 11 touchdowns. He also went 5-for-10 for 67 yards, a touchdown and an interception last week.
"It's almost like having a coach on the field," Sawyer said of Burke. He's a very good quarterback and a very good game-manager. He keeps the offense at an even keel. He's been a rock for us this year."
Clyde-Savannah (7-1) is making their second-consecutive appearance in the Class D Finals after falling to Notre Dame last year.
The Golden Eagles are led by quarterback Joe Faniel. The senior has thrown for 11 touchdown passes, rushing for another seven, and accounting for a total of 20 on the season.
Last week Faniel earned Class D Offensive Player of the Week honors after completing 5-of-6 passes for 137 yards and a touchdown while rushing for another 143 yards and a touchdown in a win over Perry.
His favorite target is six-foot-five inch senior tight end Kam DiSanto, who has caught five touchdown passes this season. DiSanto has also earned on Class D Player of the Week on defense on two occasions this season
The Golden Eagles boast Section V's best defense, which comes in allowing just 6.6 points per game. Even their lone loss of the season was impressive. As Clyde-Savannah held Section V's highest scoring offense to just 15 points, falling to Dundee 15-12 in Week 5.
Final note: Alexander's defense is also stout, giving up the third-fewest points in Section V, so it should be a defensive battle for most of the game.
Burke won the quarterback battle last week, and if he can win it this week, the Trojans could have their first sectional crown in school history.
"We're getting healthier and stronger," Sawyer said. "Clyde is a very good team, but so are we."