McCulley shines as Notre Dame pounds Alexander
Submitted by Nick Sabato on September 21, 2013 - 10:09pm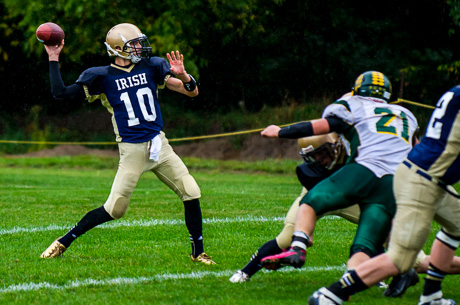 Tim McCulley accounted for five touchdowns as Notre Dame routed Alexander 41 to 12.
Both teams entered the contest with 2-0 records, and went toe-to-toe for the first quarter, until the Fighting Irish opened things up.
McCulley started the scoring by capping a 17-play, 88-yard drive with a one-yard touchdown run. Alexander would quickly respond though, scoring on a 75-yard drive, finished by a Dylan Scharlau one-yard run.
However two plays later, the Notre Dame senior quarterback ripped off a 63-yard touchdown run and the Irish never looked back. McCulley would hook up with Josh Johnson on a 30-yard touchdown pass to head into halftime with a 20-6 lead.
Notre Dame received the ball to start the third quarter and proceeded to march 67 yards on 11 plays, capped by a 24-yard touchdown toss from McCulley to Luca Zambito.
McCulley would later intercept a Nelson Burke pass, and capitalize with one more touchdown pass to Charlie Herbert to put the game on ice.
One bright spot for Alexander was the play of Scharlau, who ran for 166 yards and two touchdowns, while the Irish defense held Burke to just 2-of-10 passing for 12 yards and two interceptions.
Notre Dame got one final touchdown after Johnson returned a Trojan onside kick 54 yards for a touchdown late in the fourth quarter.
McCulley finished the game 10-of-21 passing for 171 yards, three touchdowns and an interception, while also rushing for 108 yards and two scores.
Senior Andrew Mullen had a solid game for the Irish, rushing for 124 yards on 21 carries, while Zambito added four catches for 50 yards and a touchdown.
The Fighting Irish improve to 3-0 and will travel to Elba/Byron-Bergen next week. The Lancers have beaten Notre Dame the last two seasons, keeping them from an undefeated record.
Alexander (2-1) will host Attica next Friday night.
More stats: Scharlau had seven tackles and one sack. Zach Laird had seven tackles. Jonathan George had eight tackles. Kelsey Patten also recorded a sack for Alexander. For Notre Dame, McCulley rushed for 107 yards on 19 carries. Luca Zambio had four catches for 54 yards and a TD. Charlie Hebert had two receptions for 60 yards and a TD. Josh Johnson gained 35 yards on two receptions and scored. Joe Zickl led the defense with 13 tackels. Dakota Weidman notched the team's only sack.
In other football action today, Elba/Byron Bergen moved to 2-1 with a 41-6 over Holley on in the first game on Holley's brand-new football field. Garrett Chapell, who was 3-6 for 67 yards, threw for two TD and ran for one. Brandon Naylor carried the ball in twice. Austin Yockel snatched his third interception on the season. The Lancers had 315 yards total offense to Holley's 50. Mike Shanley had 11 carries for 107 yards. Andy Underhill had 14 tackles and half a sack. Naylor, 10 tackles, Hunter Taylor 11 and 11 for Steel Truax.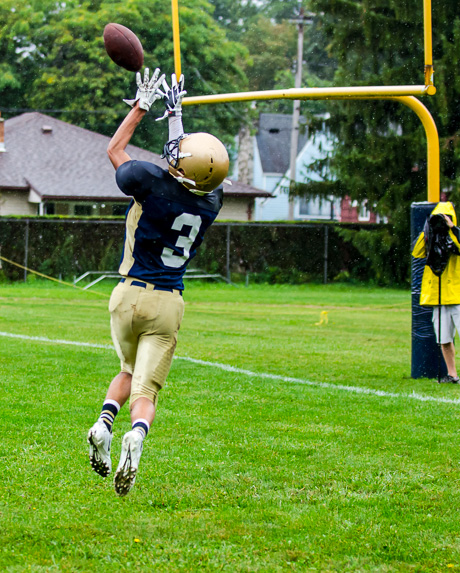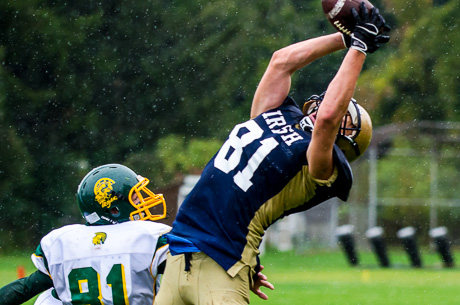 ]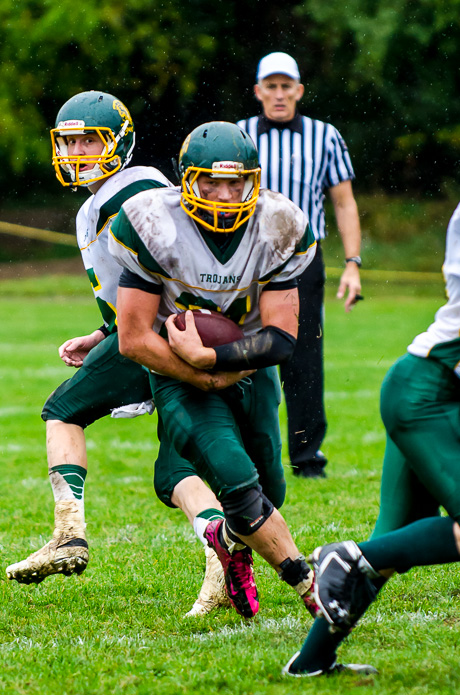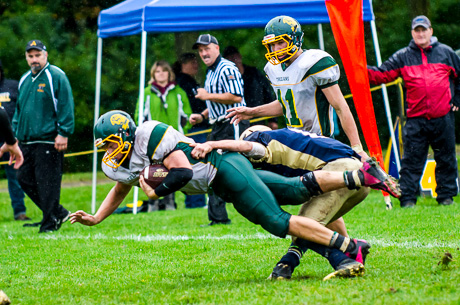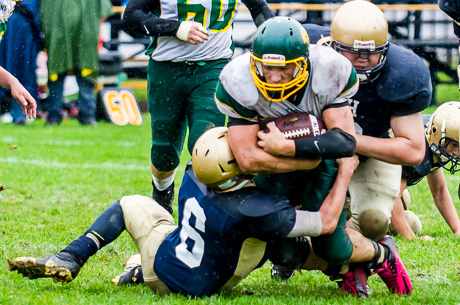 Photos by Howard Owens.
To purchase prints of photos, click here.
September 22, 2013 - 7:02pm
#3
ND is already the smallest school in Class D. Even if they were moved up to Class C, they would still be in the Genesee League, so regular season opponents would still include Alexander, Elba/BB, Holley, Attica and Pembroke. Once in sectional play, ND would be facing schools three times its size.