Local high school football kicks off 2013 season with games Friday and Saturday
Submitted by Nick Sabato on September 5, 2013 - 2:13pm
The air is getting cooler and the leaves will begin to change soon, which means it is once again football season. Several area teams are looking to have big seasons or build upon last year's success. Here is a look at each local squad: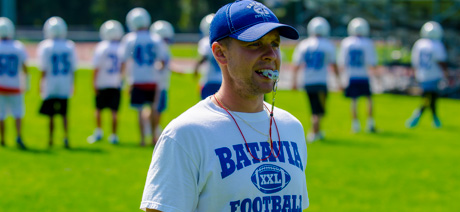 Batavia High School Blue Devils
2012 Record: 3-5
Head Coach: Brennan Briggs (2nd Season)
Second-year Head Coach Brennan Briggs is embracing a daunting task ahead of him and his football team. Batavia High is moving from an independent schedule back into the Monroe County League. Of their seven games, six will come against Class A schools.
"I truly believe Monroe County is the best league for speed, athleticism and talent in Section V, so it will be a tough task for us," Briggs said. "We are a Class B school, with six of our seven games coming against Class A schools, which have a little bigger pool to choose from."
Briggs and his coaching staff have been stressing mental toughness, and doing the little things to offset any physical disadvantages. The Blue Devils have also adopted a new motto, "keep chopping."
"We have been stressing that there is only one speed. There is no practice speed or game speed, everything is done at full speed," Briggs said. "We've been trying to instill that mental and physical toughness to try and limit any physical disadvantages we may face."
The Blue Devils will be led by Brandon Stevenson, a player who will see time at both quarterback and running back, as well as in the defensive backfield. Senior Nick Canzoneri, who was the team's leading rusher a year ago at the fullback spot. Three-year varsity player Devon Koepp will lead an inexperienced offensive and defensive line.
Batavia will be inexperienced at certain positions this season but that doesn't seem to concern Briggs.
"We will be relying on quite a few sophomores at a few spots on offense," says Briggs. "I not only think that they are up to it now, but it will help them in the long run."
The Blue Devils open up the season on the road with a matchup against Edison Tech on Saturday afternoon.
Alexander Trojans
2012 Record: 2-6
Head Coach: Tim Sawyer (10th Season)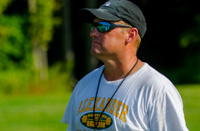 Alexander has not reached the sectional playoffs since 2009, but they look to bounce back this year under Head Coach Tim Sawyer, who has spent 10 years overall as head coach, this being the second season after a hiatus.
One of the players that Sawyer will lean on heavily will be 2012 Genesee Region League All-Star Zach Laird, who finished the season with 24 receptions, 351 yards and three touchdowns, including a 10-catch, 141-yard outing against Holley last fall.
Another returning G-R All-Star is senior lineman John George, who should anchor the line. Quarterback Nelson Burke returns from a year ago, as well as running back/linebacker Dylan Scharlau to help guide the Trojans to success.
Alexander opens the season at home on Saturday against Elba/Byron-Bergen.
Elba/Byron-Bergen Lancers
2012 Record: 6-2
Head Coach: Michael Cintorino (3rd Season)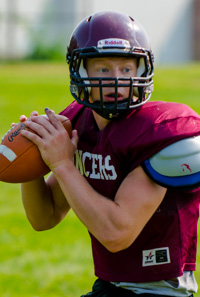 Elba/Byron-Bergen had a disappointing end to their 2012 season after being upset at home to Bath in the first round of Class C playoffs. The Lancers also have a great deal of offensive firepower to replace from a year ago, including the Genesee Region League's leading rusher, Zack DuBois (1,632 yards and 16 touchdowns), as well as the league's second-ranked passer, Zac Gillard (921 yards and 12 scores). However, the Lancers do return a trio of players from a year ago that helped them to a share of the league crown.
One of those returning players is the 2012 Class C Defensive Player of the Year, Andy Underhill. Underhill racked up an astounding 154 tackles, including 27 for a loss. He should also see more time on offense this year, where when called upon, he was effective (8.2 yards per carry on 31 touches).
Another G-R League All-Star returning for Elba/B-B is senior Brandon Naylor, who will make the transition from offensive line to running back this fall. Naylor made a name for himself on defense last year, finishing second on the team with 87 tackles, 28 for a loss.
The third returning G-R League All-Star is defensive back Austin Yockel, who will be looked at to be the receiving threat for quarterback Garrett Chapell. Yockel was second on the team in receiving a year ago with 287 yards and three touchdowns.
Reigning G-R League Coach of the Year, Michael Cintorino's Lancers open the season on Saturday with a trip to Alexander.
Le Roy Oatkan Knights
2012 Record: 8-2
Head Coach: Brian Moran (25th Season)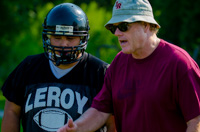 Le Roy has a New York State record 14 sectional championships in school history, 13 under Head Coach Brian Moran, but they have not managed raise a banner since 2008.
This year could be different for the Knights. After reaching the sectional finals, only to lose to Hornell in the midst of their 51-game winning streak, Moran's squad returns with a host of weapons this fall. The arsenal includes senior running back Peter Privitera, who rushed for 962 yards and 12 touchdowns in only eight games due to injuries toward the end of the season. Privitera will be joined in the backfield by junior Tom Kelso, who proved himself highly valuable in Privitera's absence toward the end of the season. Kelso was second on the team in rushing last year with 485 yards and eight scores.
The key to the success of the offense this season could be the play of strong-armed junior quarterback Mike McMullen, who threw for 655 yards and nine touchdowns a season ago. McMullen showed capabilities of igniting the offensive attack last year with a 7-of-10, 150-yard performance against Bath in the Class C semifinals in 2012. It will also help to have his top target from last year back in junior Ryan McQuillen, who accounted for half of McMullen's yards last year (323 on 12 receptions) and also reached the end zone six times.
The defense will be led by Kelso, the team's leading tackler a year ago, at linebacker. The defensive front should be solid also with the return of junior Kody Lamkin, senior Brian Van Grol and Anthony Paladino, who transferred from Notre Dame.
The Oatkan Knights will begin the pursuit of Coach Moran's 14th sectional title on Friday night at Hartwood Park, ironically against Hornell, whose 51-game winning streak was snapped in the State championship game. But if Le Roy aims to hoist another trophy, it would be fitting to start their quest against the Red Raiders.
Notre Dame Fighting Irish
2012 Record: 8-2
Head Coach: Rick Mancuso (9th Season)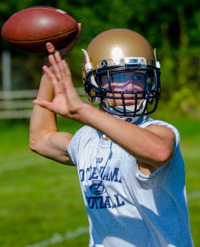 The 2012 season was one for the record books for Coach Rick Mancuso's Notre Dame squad. Not only did they grab a share of the Genesee Region League title, but they were the only team from Genesee County to win a sectional championship; the school's first since 2006 after narrowly missing several times, where they defeated Clyde-Savannah, 26 to 6.
One of the big reasons for last season's success was the play of quarterback Tim McCulley, who is back as a third-year starter at quarterback. McCulley set several school passing records, including 1,127 yards and 18 touchdowns, including a 270-yard, three-touchdown performance against Attica. He is also a dual-threat, picking up over 300 yards on the ground and scored on a punt return and an interception last year.
Despite losing leading rusher Nick Taylor and top receiver Jared Thornton to graduation, McCulley will have a number of weapons due back at his disposal including 6-foot-4-inch tight end Charlie Herbert, running back Andrew Mullen, as well as receivers Jason Hart and Josh Johnson. So, Mancuso doesn't believe that the offense will miss a beat.
"We have seven players who saw time returning on both sides of the ball," Mancuso said. "We are very pleased with the way that the new additions to our program have stepped up and we expect big things from them this year."
Notre Dame has also lost a number of key players along the offensive and defensive line, including John Lapple (graduation), Anthony Paladino (transfer to Le Roy) and Brenden Von Kramer (transfer to Pembroke). The Irish do return a few big bodies such as senior Tim Taylor, who will anchor the front for the Irish.
Losing so many big bodies and having a roster of just 18 players also doesn't seem to concern Mancuso and his staff.
"We've got size, but we are a spread team," Mancuso said. "So, we don't necessarily need size to compete. Our talent and our numbers dictate that we are a spread team so we will be just fine."
The Fighting Irish begin defense of their Class D crown with a home game against Holley on Saturday afternoon.
Oakfield-Alabama Hornets
2012 Record: 5-4
Head Coach: Brian Palone (5th Season)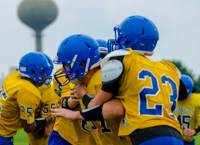 After finishing the 2011 season winless, and being outscored 84-0 in the first two games of 2012, Brian Palone's Oakfield-Alabama squad finished the season 5-2. It was the Hornets' first winning season since 2008 under Jon Dowd, but Palone will look to continue to push Oakfield back to the powerhouse it once was.
The Hornets return four-year starter Chris Nanni, who was a standout on both sides of the ball a year ago, registering 75 tackles while punching in 10 rushing touchdowns.
Chase Manzella also returns after being a do-it-all player last year. Manzella split time between running back and quarterback last year, but with the emergence of Allen Chatt at quarterback last season, Palone should be able to keep him in the backfield alongside Nanni.
Oakfield-Alabama will open up their season at home with a tough test against Attica on Saturday night.
Pembroke Dragons
2012 Record: 1-7
Head Coach: Justin Loeber (2nd Season)
The 2012 season was a forgettable one in several aspects for Pembroke. Low numbers and an 0-7 start, including a game that was forfeited due to being unable to field enough players for that week, led to a poor start to the head coaching career for Justin Loeber.
However, the Dragons finished strong, shutting out Geneseo in the Connors and Ferris Bowl to end the season. Now, Loeber is looking to build off of the momentum started at the end of last season.
"Our biggest weapon is that we that confidence now," Loeber said. "We have players who played a lot as sophomores, have a year under their belt and know the system and have confidence in the system."
Pembroke returns all but three players from a season ago that saw them play several underclassmen. They also return to key players, quarterback/safety Tyler Bruning and running back/linebacker Pete Thomas.
"Tyler is our general on the field," Loeber said of Bruning. "Football is his sport, he loves it. He knows the offense and he can direct anyone on where to go."
Thomas was the team's lone G-R League All-Star from 2012, and the Dragons will lean on him heavily after compiling 250 yards and four touchdowns on offense, while leading the team with 75 tackles on defense.
"Pete is a three-year varsity player," Loeber said. "We called him up as a sophomore and he knows what it takes to be successful. The other players really look up to him and he is becoming a solid leader for us."
Pembroke will open up the season at home against C.G. Finney on Friday night.
Schedule for Genesee County Football Teams on Opening Weekend
Friday, September 6
7:00 p.m. – C.G. Finney at Pembroke
7:30 p.m. – Hornell at Le Roy
Saturday, September 7
1:30 p.m. – Batavia at Eidson Tech
1:30 p.m. – Elba/Byron-Bergen at Alexander
1:30 p.m. – Holley at Notre Dame
7:00 p.m. – Attica at Oakfield-Alabama