Le Roy punches ticket to Class C Final
Submitted by Nick Sabato on November 2, 2013 - 8:23pm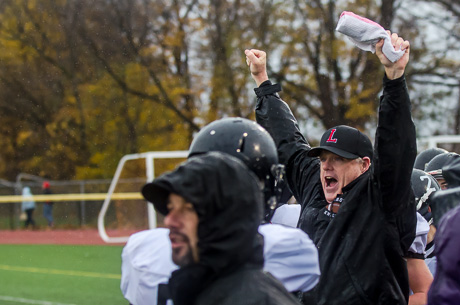 Le Roy will play for an opportunity for the Class C Sectional Championship after ousting top-seeded East Rochester/Gananda, 21-14.
The Oatkan Knights will be playing for their 15th sectional championship in school history, in an attempt to extend their Section V record that is shared with rival Cal-Mum.
After reaching the finals last season before losing to Hornell, Le Roy needed to defeat the top seed in Class C and the 2012 Class B champions in East Rochester/Gananda.
The Bombers got off to a fast start, striking just 1:39 into the game, as Zach Hauser found Andrew Fischer on a 51-yard touchdown pass to take the early 7-0 lead.
Le Roy struggled to move the ball on their first possession and were forced to punt. The Knight defense regained their composure, stopping East Rochester/Gananda quickly.
At this point junior Ryan McQuillen asserted himself into the contest.
After being beaten on the Hauser-Fischer touchdown pass, McQuillen atoned for his mistake by taking the Bombers' punt back to their 31-yard line. Two plays later McQuillen knotted the game on a 26-yard touchdown pass from Mike McMullen with 4:02 remaining the first quarter.
"(McQuillen) did an outstanding job for us all day," said Le Roy Head Coach Brian Moran. "He was in good position on that touchdown play; he just didn't make the play. Sometimes that happens, when play goes bad, you make the next play and the next play, that's what football is all about."
The two teams would play to a stalemate for the remainder of the first half, trading turnovers and punts.
Le Roy would break that tie coming out of halftime, marching down the field on the opening possession of the half that Nick Egeling capped off -- a drive that lasted 5:27 with a 14-yard touchdown scamper to take a 13-7 lead.
The Bombers managed to move the ball on the ensuing possession but were unable to score. Le Roy was also unable to move the ball and East Rochester/Gananda took over as the fourth quarter began.
East Rochester/Gananda finally began to find their rhythm on the ground after being stifled by a formidable Knight front. The Bombers kept their 10-play drive alive on a strong third-down run from Nate Teeter, followed by another that put them on the cusp of the end zone. Kendrick Watson would finish off the drive with a two-yard touchdown plunge, taking a 14-13 lead with 5:30 remaining.
The Knights would answer though, needing only six plays to regain the lead after senior Peter Privitera took a third-down carry 45 yards for a touchdown, punctuated by a McMullen quarterback sneak on the two-point conversion to take a 21-14 lead with 2:46 to go in the game.
The Bombers would not go away quietly though, after their comeback attempt appeared to be dead, Hauser found Riley Palmer on fourth down for a gain of 45 yards, taking the ball to the Le Roy 45-yard line.
Le Roy's defense would the step up to the plate.
Kody Lamkin came up with a sack on Hauser for a loss of nine yards and two plays later McMullen would seal the game by intercepting Hauser with less than a minute remaining in the game.
"Football is a tough game," Moran said. "You have to be tough and physical. That's Le Roy football."
Le Roy (8-1) will play Livingston County foe Wayland-Cohocton next Friday for the Class C championship at Sahlen's Stadium in Rochester.
"It's a Livingston County Final," Moran said. "We play great football out here and we are looking forward to that game."
Kickoff will be at 5 p.m.
Stats for the game: Peter Privitera, 20 carries, 124 yards, one TD; Tom Kelso, 12 carries for 73 yards. Mike McMullen was four for 9 for 45 yards and one TD. Ryan McQuillen caught three passes for 40 yards and a TD. Kody Lampkin had nine tackles, two for losses. Tom Kelso had seven tackles. Brian Hodges, Steve Cappotelli, Zack Fitzsimmons and Nick Egeling had five tackles each. Cappotelli and Brandon Van Grol each had a sack and McQuillen had an interception.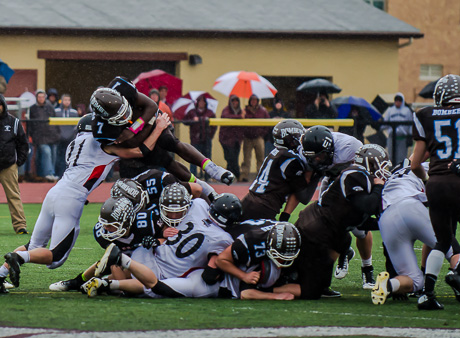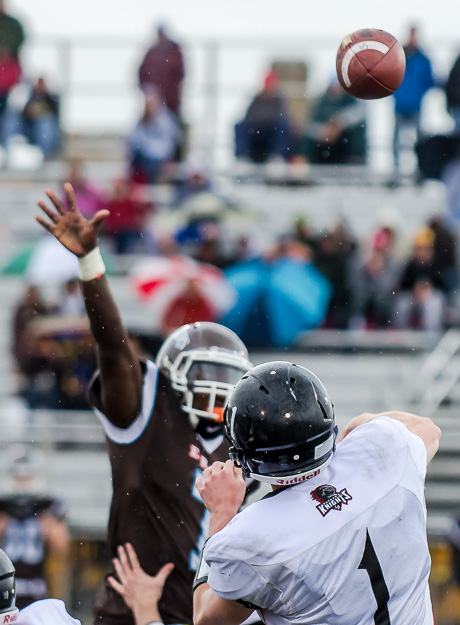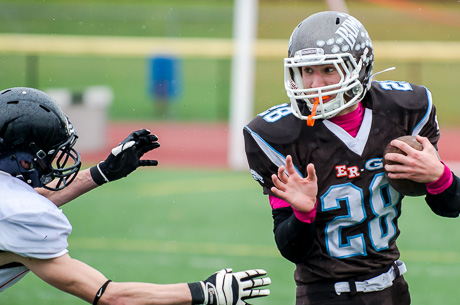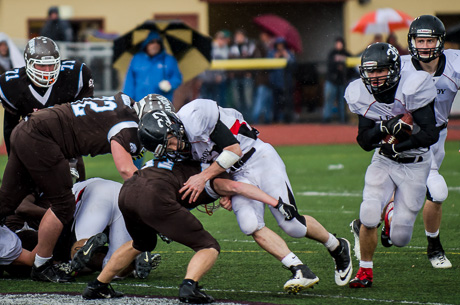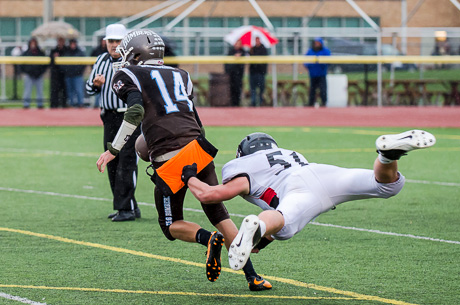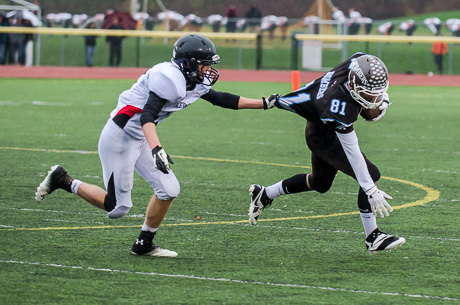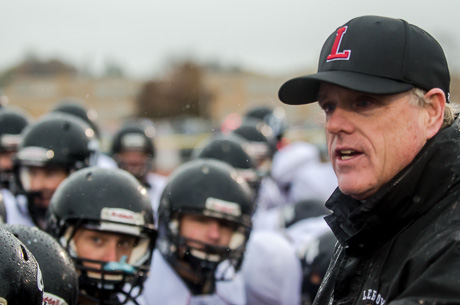 To purchase prints of photos, click here.
November 3, 2013 - 7:56pm
#2
LET'S GO LEROY!!!!!! GREAT JOB GUYS...