Le Roy outlasts Dansville, advances to Class C semis
Submitted by Nick Sabato on October 26, 2013 - 7:30am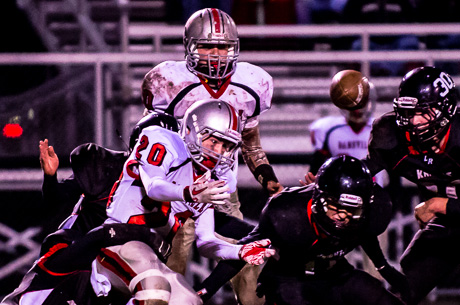 The Le Roy Oatkan Knights advanced to the Class C Sectional Semifinals with a win over Dansville, 26-12.
The Le Roy offense has traditionally been a run-based team under Head Coach Brian Moran. However with the growth of junior quarterback Mike McMullen, the Knights have become more pass-oriented this season. But Le Roy failed to get their passing game going early and we saw the return of old-fashion Knight football.
The Mustangs got off to a solid start, taking the opening kickoff 65 yards on 10 plays before Le Roy made a goal line stand to deny Dansville at the one-yard line.
After Dansville failed to capitalize on a McMullen interception, the Knights began to slowly pound away with their running game. The duo of Peter Privitera and Tom Kelso chipped away on a nine-play drive, capped off by a three-yard Privitera run to take a 6-0 lead early in the second quarter.
On the ensuing kickoff, Nick Egeling recovered a fumble on the Dansville 26.
This time the Knights only needed six plays for Privitera to punch in another score, this time from four yards out to go up 12-0.
Kelso carried the load early in the second half, racking up 91 of his 95 yards in the first half before Privitera came in to close out the game.
The senior bounced back after only managing 28 yards in last week's loss against Cal-Mum. This week, Privitera ran the ball 28 times for 115 yards and two touchdowns.
"Peter ran hard tonight," Moran said. "That's good for us. It's good to have him around this time of year."
After Le Roy seemingly took control of the game, the Mustangs responded, taking their next drive 83 yards, which was capped off by a 53-yard hook up from Ethan Mapes to Brad Quibell on third-and-six to cut the deficit in half, 12-6.
Le Roy looked as if they would crush any momentum from the Dansville touchdown as they came out for the second half, but McMullen fumbled the snap on a fourth-down play, giving the Mustangs the ball at the Knights' 45-yard line.
Dansville needed only four plays before Mapes found Gage Koch on a 13-yard pass to tie the game at 12 early in the third quarter.
With the passing game struggling, the Knights continued to rely on the running game. Le Roy took their next possession and ran the ball 11 consecutive times before McMullen finally found his touch, hitting Ryan McQuillen on a beautiful 28-yard touchdown catch-and-run play. Egeling then found himself on the receiving end of a McMullen pass to pick up the two-point conversion, making the score 20-12.
The fourth quarter saw both teams struggle to sustain any success on offense, with Le Roy going three-and-out on three straight possessions, and Dansville turning the ball over on two straight, including Koch racing 25 yards before fumbling the ball away at midfield with just over eight minutes to play in the game.
After going 1-for-8 passing in the first half for just 42 yards and an interception, McMullen finally found his touch.
The junior found Egeling once again, this time capitalizing on Dansville stacking the line of scrimmage expecting the Knights to pound away on the ground. The pass netted 29 yards, down to the Mustang 11-yard line.
Two plays later, the pair hooked up once again, this time on a nine-yard scoring toss to go up 26-12 with just 2:32 remaining.
"We had to make a play," Moran said of his play selection. "We have some good athletes and obviously when they started taking that safety out of the middle of the field, we knew we had to do something to take advantage of that."
McMullen went 4-of-6 in the second half to finish 5-for-14 for 112 yards on the night.
Kelso would seal the game on defense, sacking Mapes for a loss of 17 yards.
Mapes finished 8-of-16 for 153 yards, two touchdowns and interception, while Ryan Hurlburt ran for 66 yards on 13 carries for Dansville (5-3).
Egeling had strong all-around game for the Knights, picking up 52 all-purpose yards, two touchdowns, an interception and a fumble recovery.
Le Roy (7-1) will advance to the semifinals to face top-seeded East Rochester/Gananda after they defeated Elba/Byron-Bergen, 34-6.
In other local high school football action:
Wayne 38, Batavia 21
Batavia's Brandon Stevenson ran for 153 yards on 22 carries and two touchdowns, while also throwing for another. Wayne scored 32 points in the second half, after trailing 8-6 at halftime.
East Rochester/Gananda 34, Elba/Byron-Bergen 6
Steele Truax scored the Lancers' only touchdown on a 59-yard run.
Wellsville 26, Attica 25
Seventh-seeded Wellsville scored a touchdown with :43 seconds left and added a two-point conversion to oust second-seeded Attica in the Class C Semifinals.
Top photo: A Dansville player coughs up the ball during a kick-off return, leading to Le Roy's second TD score (Privitera scoring below; #20 on Dansville is not listed on the team roster).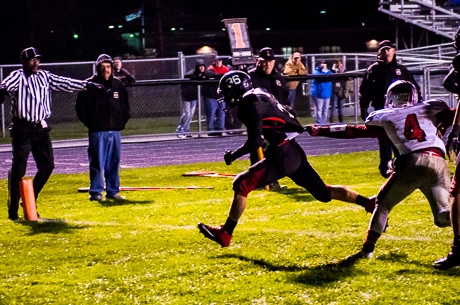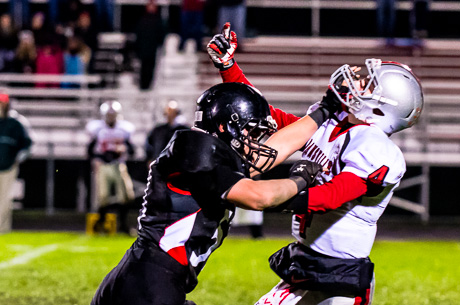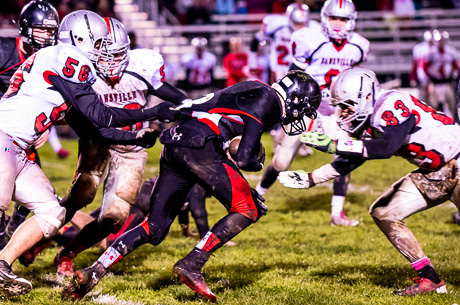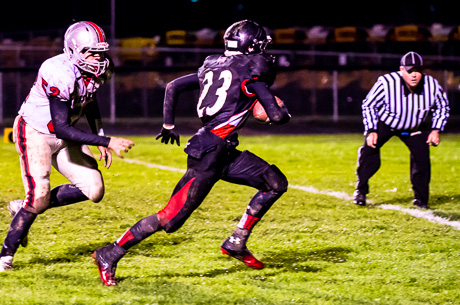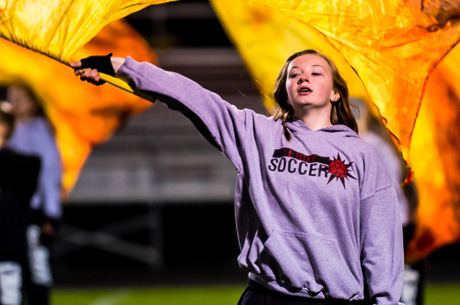 To purchase prints of photos, click here.