Le Roy grinds out Section V playoff victory over Holley
Submitted by Nick Sabato on October 20, 2012 - 8:35am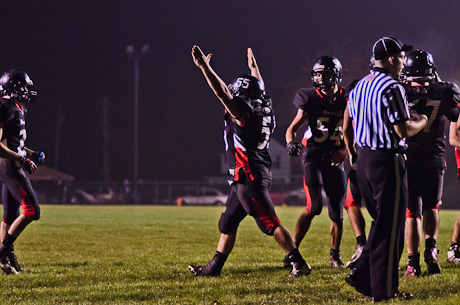 It was the running game that once again carried Le Roy to victory.
The Oatkan Knights rushed for 1,975 yards this season. Peter Privitera ran for nearly half of those yards, but with the junior out due to injury, the Knights leaned on a stable of backs to run past Holley in their Class C first round matchup, 26 to 18.
After averaging 282 yards per game on the ground during the regular season, Le Roy pounded the Holley defense for 314 yards on 58 attempts.
In the absence of Privitera, Coach Brian Moran used Tom Kelso, Marcus Mistersaro, Dylan Johnson and Kylan Carter to fill the void. While Mistersaro and Kelso have played an integral part of the offense all season long, it was Carter who stepped up with several big runs.
Coming into the game, Carter had only carried the ball two times all season.
On the last home game of his career, he exploded for 110 yards on nine carries, including a 52-yard dash that helped set up the second touchdown of the game.
"This was our last home game and I held nothing back," Carter said. "I played like a senior tonight."
Another senior stepped up to the plate for the Knights, and that was fullback Dylan Johnson, who accounted for all 26 Le Roy points. Johnson scored four touchdowns and added two extra points, including the game-winning 18-yard run and PAT with 2:16 remaining in the ball game.
Le Roy got a break early, as Holley marched into Knights' territory on the first drive of the game, but Mistersaro recovered a Nick Conklin fumble on a short yardage play.
After a few Kelso runs, Mistersaro burst free for a 35-yard scamper to set up a Johnson scoring plunge. Johnson would score again to put the Knights up 13-0 at the end of the first quarter
It appeared as if Le Roy might run away with the game, but the Hawks responded quickly.
Holley senior running back Cadizsh Norford took control of the second frame, cutting the lead to 13-6 as he darted up the middle for a 23-yard touchdown run.
After forcing Le Roy to punt on their next possession, the Hawks got the ball on their own 38 with just before halftime. On the first play of the drive, Norford took a direct snap, faked a pass and sprinted 62 yards for another touchdown to make the score 13 to 12 at the half.
"I've been here 24 years and [Norford] is as good as I've ever seen," Moran said.
In desperate need of keeping the ball out of Norford's hands after running for 124 yards on nine carries in the first half, the Knights proceeded to march 60 yards on 18 plays, consuming 10:45 of the third quarter. The long drive was capped by Johnson's third touchdown of the game.
Even after a chop block penalty pushed them back 15 yards, the Le Roy offense continued to pound at the Hawks' defense until reaching the end zone.
"That's old-school Le Roy football," Moran said. "It shows that our kids are physically fit and it shows their mental preparation."
Norford fired right back, receiving a pass from Kyle Bell for a 43-yard touchdown, cutting the deficit to 19-18.
After trading punts, the Knights embarked on an 80-yard scoring drive that took up 5:31 on the clock, and was finished off by Johnson's final touchdown with 2:16 remaining to seal the game.
Moran made a point to control the clock in the second half, particularly with the explosive Norford on the opposite side. Le Roy dominated the time of possession down the stretch, ticking off 20:49.
When Holley took possession down 26-18, they had run only six offensive plays in the entire half.
"It does two things," he said. "It puts pressure on them to score touchdowns and it puts us in a good situation to win because we have used up so much time."
Holley (4-4) played a hard-fought game, with Norford finishing with 10 carries for 141 yards and two touchdowns, while catching four passes for 68 yards and a touchdown.
Kelso finished the game with 80 yards on 26 carries, while Mistersaro racked up 90 yards for the second consecutive week.
Le Roy (7-1) advances to the Class C Semi-Finals next Saturday at Sahlen's Stadium in Rochester for a 1:30 p.m. start.
They will play the winner of today's Elba/Byron-Bergen and Bath game.
In other Friday night sectional play: Batavia fell to East Rochester in a Section V playoff match, 35-20. Justin Washington scored on a 14-yard pass from Brett Scheuerlein in the second quarter. In the fourth, James Soggs scored on a six-yard run and Cody Swimline caught a five-yard pass from Scheuerlein for another TD.
In Connors and Ferris Bowl games, Cal-Mum beat Alexander, 36-6, Oakfield-Alabama beat Bolivar-Richburg 42-0 and Pembroke topped Geneseo 26-0.
In other Section V playoff action today, Notre Dame hosts longtime post-season nemesis Dundee.
In other games of note on Friday, Attica stomped Mynderse 61-8, and Hornell, which dropped down a class this season, continued its 40+ game winning streak, beating Wayland-Cohocton 41-13. Elba, Le Roy, Attica and Hornell are all Class C teams. Hornell and Attica face off in a semi-final game next week in Rochester.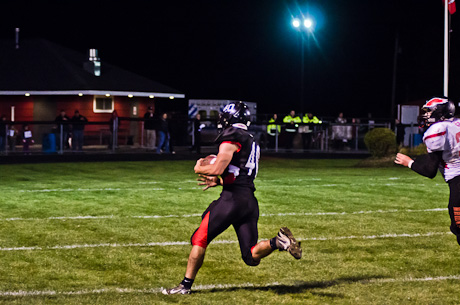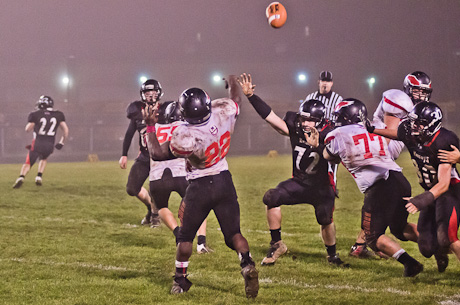 If you're unable to view the slide show below, click here. To purchase prints of these photos, click here.
Photos by Howard Owens.