Fourth-quarter run dooms Batavia on Senior Night
Submitted by Nick Sabato on February 15, 2013 - 9:14am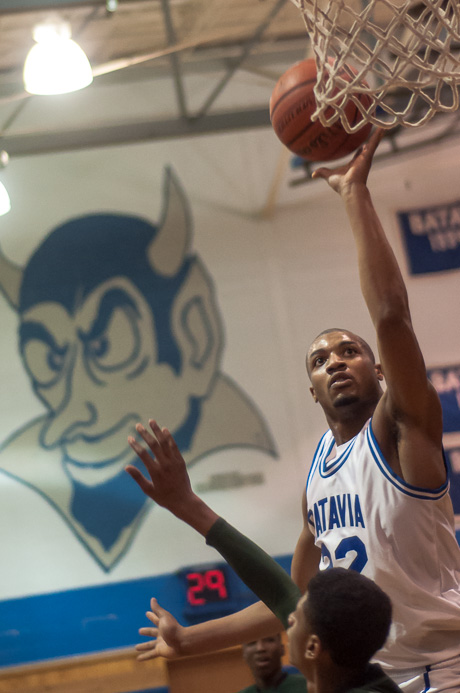 Charlotte connected on five three-pointers as a part of a 15-2 run to start the fourth quarter to put away Batavia on their senior night, 72-54.
The Lakesiders got off to a hot start as Kievonn Banks scored 14 of his game-high 37 points in the first quarter and led 21-15.
In the second quarter, Batavia's own star took over as Justin Washington scored 15 points in the frame to help give the Blue Devils a one-point halftime lead.
Washington continued to control the game after the intermission, until midway through the third quarter as he picked up his third personal foul on a coast-to-coast charge.
With the Blue Devils' star on the bench, Charlotte would use their full-court pressure to regain the lead heading into the fourth, 48-46.
"We didn't take care of the ball," Washington said. "If we are going to make a run in sectionals, we are definitely going to have to take care of the ball."
Banks would connect on a three to start the frame, and would strike seconds after a Rayqwaun Blocker steal of Jake Brasky led to another three from Demetrius Gettys.
Batavia halted the run after a timeout with a lay up, but Charlotte would hit three consecutive shots beyond the arc, two more coming from Gettys, to put the Blue Devils away.
In total, Charlotte (15-3) tallied 15 steals, 7 by Banks, on the night as Batavia never seemed to crack the Lakesiders' full-court press.
Banks would add nine rebounds to go along with his 37 points and seven steals, while Gettys chipped in with 16 points for Charlotte.
Washington had a superb all-around night in defeat, finishing with 25 points, 13 rebounds, four assists and two blocks. Jamesson Etienne added 14 points and nine rebounds while Jalen Smith chipped in 11 points for Batavia (15-3).
The Blue Devils had already locked up the top seed in Class B1 prior to the game and will play host to the winner of the Midlakes/Waterloo game on Feb. 23.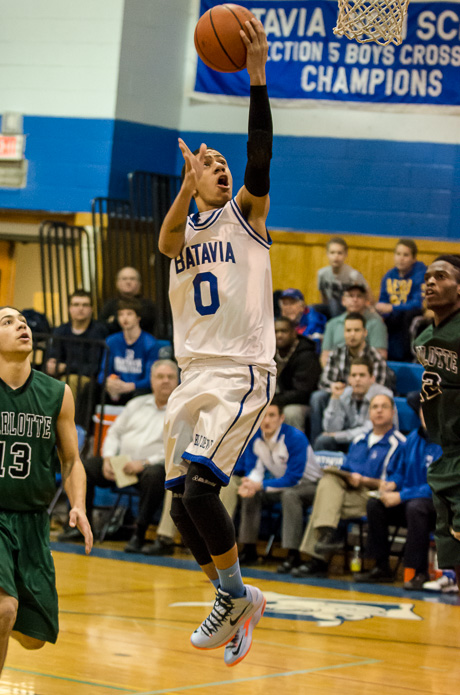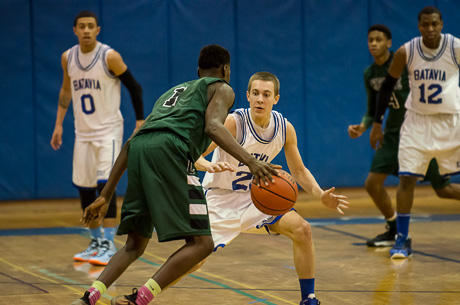 PHOTOS By Howard Owens.
Top, Justin Washington scores on a lay up in the second quarter; Jalen Smith with a lay up in the third quarter; Batavia on defense.
To purchase a print of photos, click here, or click the link in the upper right of the slide show below.