Four local football squads begin sectional play tonight
Submitted by Nick Sabato on October 25, 2013 - 11:27am
#5 Batavia Blue Devils (3-4) at #4 Wayne Eagles (4-3)
Class B Quarterfinal – Tonight at 7.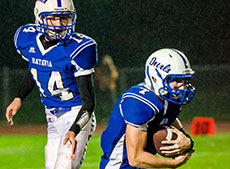 After facing a brutal Monroe County League schedule in which Batavia lost four straight games to Class A schools, the Blue Devils came away with two straight road wins to close out the regular season.
Batavia is led by do-it-all senior Brandon Stevenson, who has nine total touchdowns on the season. Stevenson splits time as a quarterback and a running back, and has scored on a pass, rush, receiving, interception return and kick return this season. He is also coming off of a solid outing a week ago, rushing for 204 yards on 22 carries and two touchdowns in a 13-7 victory over Greece Olympia.
On the other side, Wayne enters sectional play on a two-game losing streak, and has failed to beat a team with a winning record this season.
The Eagles are led by quarterback Nathan Currier, who has thrown for 1,082 yards and 13 touchdowns this season. He has a number of weapons at his disposal, including dual-threat running back Justin Morrison. The senior has 757 yards rushing and 11 touchdowns, while adding 300 receiving yards and three touchdown catches. Currier's favorite target is Mike Hollenbeck, who has 13 receptions for 307 yards and seven touchdowns on the year.
If the Blue Devils limit their turnovers and can get a big game from Stevenson, look for Batavia to spring the upset and advance to the next round.
#5 Dansville Mustangs (5-2) at #4 Le Roy Oatkan Knights (6-1)
Class C Quarterfinal – Tonight at 7:30.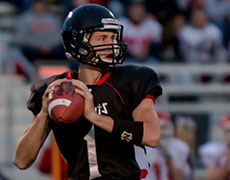 Le Roy looks to bounce back from a difficult loss to rival Cal-Mum a week ago that cost them an undefeated season and the top seed in Class C.
These Knights may not look the same as past Brian Moran-coached teams. Le Roy is traditionally a running-based team, but this season they are led by quarterback Mike McMullen. The junior has thrown for 1,025 yards and 19 touchdowns this season, and was named Section V Class C Offensive Player of the Week in a losing effort a week ago.
McMullen's favorite target has been junior Ryan McQuillen, who has 336 receiving yards and half of his 20 receptions have gone for touchdowns. Jon Pierce has also been a reliable weapon, making 13 catches for 256 yards and five touchdowns.
Despite the new high-flying attack, Le Roy still has a strong running game. Both Peter Privitera and Tom Kelso have had strong seasons, rushing for 587 and 460 yards respectively, while scoring six touchdowns apiece.
Dansville comes in with a strong record, but has yet to beat a team with a winning record. In two games against teams with winning records they have been outscored 59-6, including a 42-0 loss to Wayland-Cohocton last week.
The Mustangs have a strong running game, led by a stable of backs, including Ryan Hurlburt, Evan Dieter and Gage Koch. They also have a solid defense, which has given up the third-fewest points in Section V (67) this season.
#8 Elba/Byron-Bergen Lancers (3-4) at #1 East Rochester/Gananda Bombers (6-1)
Class C Quarterfinal, Tonight at 7.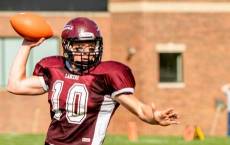 Elba/Byron-Bergen picked up a big win against Finney last week to squeeze into Class C sectional play.
The Lancers will face a top-seeded East Rochester/Gananda, who played an impressive conference schedule, playing all seven games against Class B schools.
Elba/Byron-Bergen will need a strong overall game, starting with quarterback Garrett Chapell. The sophomore has thrown for seven touchdowns in his first season as the starter.
He will need help from the running game, from both Brandon Naylor and Steele Truax. Naylor is coming off of a superb game against Finney last week, rushing for 140 yards on 11 carries and scoring three touchdowns in the win. Truax has scored two touchdowns in the last two games.
East Rochester/Gananda has a balanced offense, starting with quarterback Zach Hauser, who has thrown 14 touchdown passes this season. His favorite target has been junior receiver Andrew Fischer, who has caught nine of Hauser's touchdown passes.
The Bombers also boast a strong running game, headed by Jake Miller and Kendrick Watson. In last week's victory over Wayne, Miller ran for 242 yards on 18 carries while Watson ran for 148 yards and a touchdown.
#3 Alexander Trojans (6-1) vs. #2 Notre Dame Fighting Irish (6-1)
Class D Semifinal, Saturday 1 p.m. at Caledonia-Mumford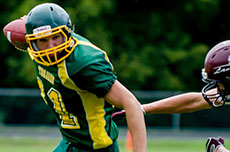 Two of the three teams that took a share of the Genesee Region League championship will square off with a chance to go to the Class D finals.
This will be a rematch from earlier this season, which Notre Dame won easily, 41-12.
However since then, Alexander has rolled to four straight victories, outscoring opponents 172-23.
Notre Dame is coming off of their only loss of the season, a 28-14 loss to Attica, in which star quarterback Tim McCulley was held in check, completing only 12-of-34 passes for 128 yards and a touchdown.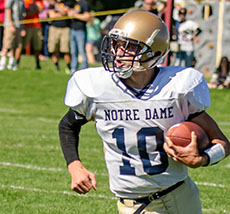 In the first matchup, McCulley dominated the game, throwing for 175 yards and three touchdowns, while rushing for another 107 yards and two touchdowns. However, Alexander's quarterback Nelson Burke struggled, only completing 2-of-11 passes for 12 yards and two interceptions.
Burke has had a strong season otherwise, completing 32-of-63 passes for 527 yards and 10 touchdowns.
The Trojans will rely heavily on the G-R League's leading rusher Dylan Scharlau, who has racked up 1,297 yards and 16 touchdowns this season. Scharlau also picked up 166 yards and two scores in the first meeting.
The Fighting Irish will need another strong game from McCulley, who has thrown for 1,347 yards and a school-record 25 touchdown passes. The senior quarterback is also the team's leading rusher with 488 yards and six touchdowns.
McCulley has a trio of receivers to throw to. Senior tight end Charlie Herbert has caught a team-high 22 passes for 391 yards and five touchdowns, while junior Josh Johnson has made 19 grabs for a team-leading 436 yards and 10 touchdowns, and Luca Zambito has made 17 catches for 244 yards and five touchdowns.
The winner of the quarterback battle between Burke and McCulley could be the deciding factor in who advances to play for the Class D crown.