Batavia edges Notre Dame in defensive struggle to win Lions Club Tourney
Submitted by Nick Sabato on December 31, 2013 - 11:28am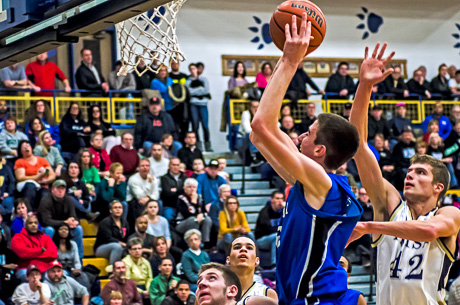 Many coaches will say that the key to winning is defense, and that's exactly what propelled Batavia to their eighth consecutive Lions Club Tournament championship, 46-36.
The game featured two of the top players in the area -- Batavia junior Jeff Redband and Notre Dame senior Tim McCulley, and both squads dug deep into their bag of tricks to stop them.
The Blue Devils guarded McCulley tight all night, making it a point of emphasis to deny him an easy catch on a pass and forcing other players to make plays.
"Our defense was very solid," said Batavia Head Coach Buddy Brasky. "I thought we did a really good job on McCulley for most of the game, so I was happy with our defense."
Batavia's defense enabled them to jump out to a 17-6 lead after the first quarter, helped out by 10 points from Redband.
Notre Dame would then switch from a 2-3 zone to a box-and-one to attempt to slow down Redband's scoring prowess.
"We weren't finding [Redband] in the zone like we had practiced," said Notre Dame Head Coach Mike Rapone. "So we switched and I think it worked pretty well for the most part."
The Irish managed to hold the Blue Devils to just 27 points in the first half, but they were unable to find their own shooting touch and trailed 15 at the break.
"Our defense wasn't the problem," Rapone said. "When you hold a team to 46 points, you should probably win the game."
The Blue Devils began to show some fatigue late in the fourth quarter, and Notre Dame got two big baskets from McCulley and Covel to cut the lead to 11, but Batavia found a way to put points on the board.
The Blue Devils got a three-pointer from Jerrett Laskett and tournament MVP Justice Fagan scored two of his 12 points to push the lead back to 16 at the end of the frame.
"Justice [Fagan] and Jeff [Redband] are our two best players and we depend on them for a lot of things," Brasky said. "They don't come out of the game very often, and that shows late in games. I can't take Justice or Jeff out and fatigue sets in."
Redband finished the game with a game-high 22 points and 15 rebounds for the Blue Devils, who improve to 5-2, and have won four straight.
Despite the strong defensive effort from Batavia, McCulley still had a strong outing, scoring 18 points, grabbing six rebounds and blocking four shots.
"Tim is a very good player and he worked hard for every single one of his points," Rapone said. "Covel and [Josh] Johnson started to hit some shots in the second half, but we need other guys to step up."
Covel pitched in nine points and five rebounds, while Johnson scored eight points and played well defensively while shadowing Redband all night.
Notre Dame falls to 5-2 on the season.
Top photo: Jeff Redband drives for a layup trailed by Tim McCulley.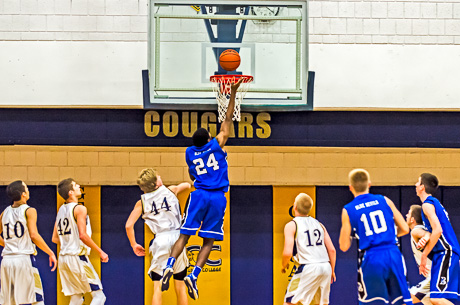 Malachi Chenault scores for Batavia during first period.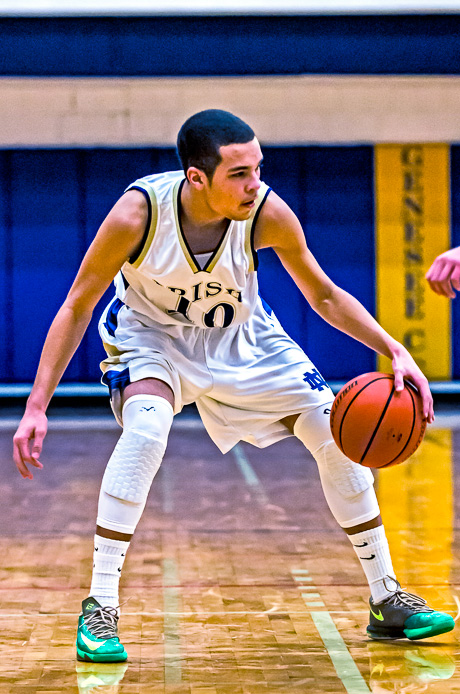 Josh Johnson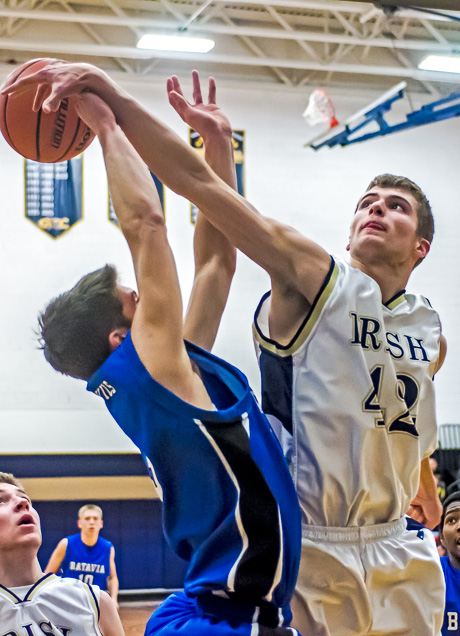 McCulley blocks a shot.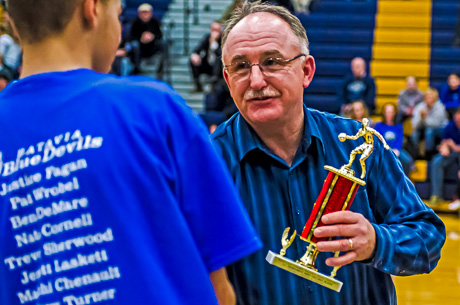 Lions club member Bill Hayes hands out the game's MVP trophy to Justice Fagan. Members said the Lions Club is grateful to Bill Hayes and his company, Turnbull Heating & Air Conditioning, for being a major sponsor of the tournament.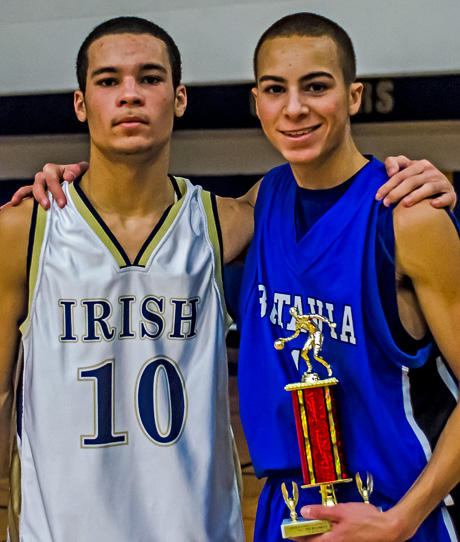 Cousins Josh Johnson and Justice Fagan played against each other for the first and last time of their high school basketball careers. Fagan was the tournament's MVP.
To purchase prints of photos, click here.
Photos by Howard Owens