Alexander rips Oakfield-Alabama on Senior Night
Submitted by Nick Sabato on October 11, 2013 - 11:12pm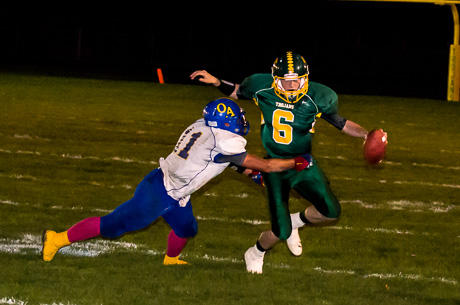 Alexander kept their hopes alive for a share of the Genesee Region League crown with a 36-8 victory over Oakfield-Alabama on Senior Night.
The Trojans used their muscle to dominate the tempo right from the start, marching 55 yards on 11 plays on the opening drive before recovering a Dylan Scharlau fumble in the end zone to take a 6-0 lead.
Oakfield-Alabama got off to solid start as quarterback Allen Chatt completed his first two passes for 34 yards. The drive, however, was derailed after Alexander recovered a Chris Nanni fumble on their 36-yard line.
From that point on, the Trojans rode their senior Scharlau for the rest of the night.
Scharlau capped off an eight-play drive that took over four minutes off the clock with a 10-yard touchdown run to go up 14-0.
Following a Hornet three-and-out series, Alexander marched 80 yards on 16 plays, taking nearly nine minutes off the clock before Scharlau plunged in from three yards out for his second touchdown of the night, sending the Trojans to halftime with a 22-0 lead.
The senior running back finished the night with 187 yards on 40 carries and three touchdowns in his final home game.
After holding the Hornets to a three-and-out to start the second half, Scharlau finished another 12-play, 65-yard drive that took over seven minutes off the clock, with his third touchdown of the night.
"We always joke about giving [Scharlau] the ball 40 times, but we hadn't done it yet," said Alexander Head Coach Tim Sawyer. "By giving him the ball, we were able to dominate time of possession and the first down total in the game."
Alexander held the ball for over 34 out of 48 minutes of the game, including 18 out of 24 in the first half. The Trojans also out-gained Oakfield-Alabama 363 to 110 for the game.
In a battle of two of the top quarterbacks in the Genesee Region League, Alexander's Nelson Burke went 5-of-7 passing for 94 yards, including a 26-yard touchdown pass to Sam Browne, while also rushing for another 40 yards on the ground.
Hornet sophomore Chatt, struggled to find his rhythm all night, finishing 5-for-17 for 90 yards, with a 16-yard touchdown to Jon Korzelius, and an interception.
Oakfield-Alabama drops to 3-3 on the season and will play at Holley next Saturday afternoon.
Meanwhile, Alexander (5-1) keeps their hopes alive for a share of the Genesee Region League crown and possible top seed in Class D.
"This was a big win for us," Sawyer said. "Had we lost, Oakfield-Alabama would have swapped places with us in the standings because of a tie-breaker, but the kids really worked hard this week and really wanted to win this game. It has been a pretty magical season so far."
Alexander travels to Pembroke next Friday night.
Other Friday night games (update by Howard Owens):
Le Roy 13, Wellsville 0. Peter Privitera rushed for 113 yards and one TD on 30 carries and Nick Egeling carried the ball nine times for 92 yards. Kody Lamkin had 11 tackles. Le Roy is now 6-0 and plays Cal-Mum next.
Pembroke beat Holley 23-20.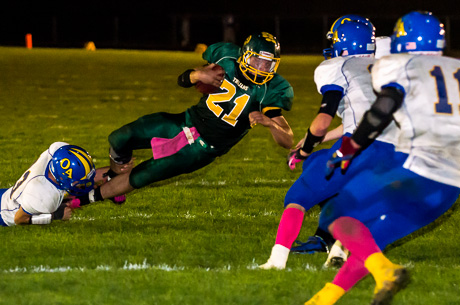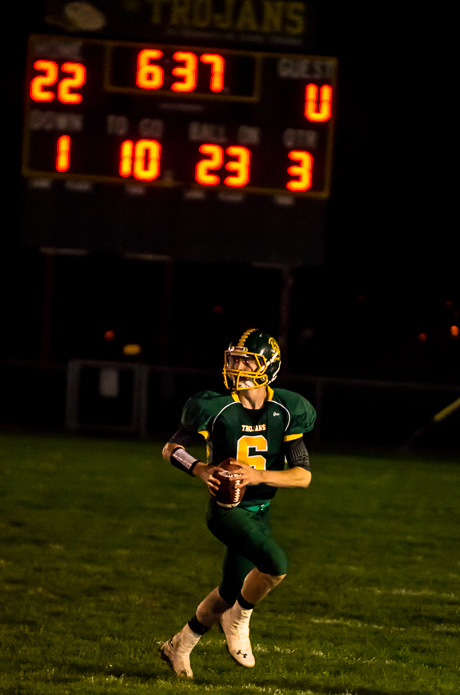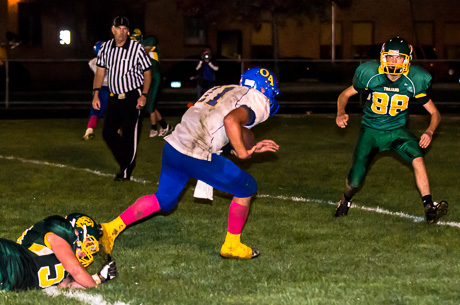 To purchase prints, click here.