Z&M Ag and Turf takes Pavilion softball championship
Submitted by Howard Owens on August 21, 2013 - 3:02pm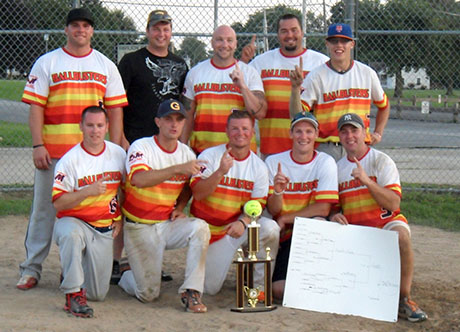 Photo and information submitted by Tim Kingdon.
The Z&M Ag and Turf's "Ballbusters" took the

Thursday

night Pavilion slowpitch softball league championship over the weekend. The Ballbusters met Smokin' Eagle BBQ & Brew in the finals where -- despite being down to only nine guys due to injury -- they were able to beat the Eagle twice in a row to capture their first league championship. They would like to thank the Pavilion Volunteer Fire Department and R.L. Jeffres & Sons, Inc., for the countless hours they put into the field all season.
Pictured from left in the front row: Scott Lazarony, Mike Hackett, Jon Parks, Mike Anderson, Tim Kingdon. Back row from left: Dale Buck, Adam Logdson, Mike Lafex, Kevin Young and Brad Whight.
August 21, 2013 - 3:21pm
#2