Wind starting to bring down trees, power lines
Submitted by Howard Owens on November 1, 2013 - 7:48am
NOTE: We started this post this morning and have been updating. For the remainder of the wind storm, we will anchor it at the top of the home page and keep adding to it. Other news that might come in the rest of the day will appear below this post.
Trees and power lines have come down at some spots in Genesee County this morning due to high winds.
Traffic is being shut down at Route 77 and Bloomingdale Road, Alabama, because of power lines down in the area of 1031 Ledge Road.
National Grid reports power outages East Oakfield, Elba, Batavia and Indian Falls. The largest outage is East Oakfield, over an area stretching well into Orleans County and effecting 135 customers. The ETA for power restoration is 10:45 a.m.
We are in the midst of a high wind warning by the National Weather Service with winds of 30 to 40 mph and gusts up to 60 mph predicted until 5 p.m.
UPDATE 9:06 a.m.: The lines down on Ledge were Verizon lines, not power. The Alabama fire crew has been able to get the poles moved and the lines out of the road. The roadway is being reopened and Alabama is back in service.
UPDATE(S) 10:11 a.m. (by Billie): Tree reported down across both lanes of Redfield Parkway.
UPDATE 11:44 a.m.: There is a electrical line(s) down near 21 Redfield Parkway. City fire just arrived on scene and National Grid is contacted. One line is cable line.
UPDATE 10:53 p.m.: A firefighter confirmed it is a cable line down.
UPDATE 11:17 a.m.: A power line is tangled up in a tree branch and hanging over the roadway on Ellicott Street, the area between the railroad underpass. National Grid is notified and law enforcement is on scene. Redfield Parkway is reopened.
UPDATE 11:26 a.m.: A cable line is down at 6 Lehigh Ave.
UPDATE 11:42 a.m.: An unknown type wire is down at Warboys and Merrill roads, Byron. An awning fell on a house at 13 Wood St. in the city. A tree branch fell on a car on Meadville Road, Alabama -- no injuries but there's broken glass.
UPDATE: Here's photos from the downed tree earlier on Redfield Parkway.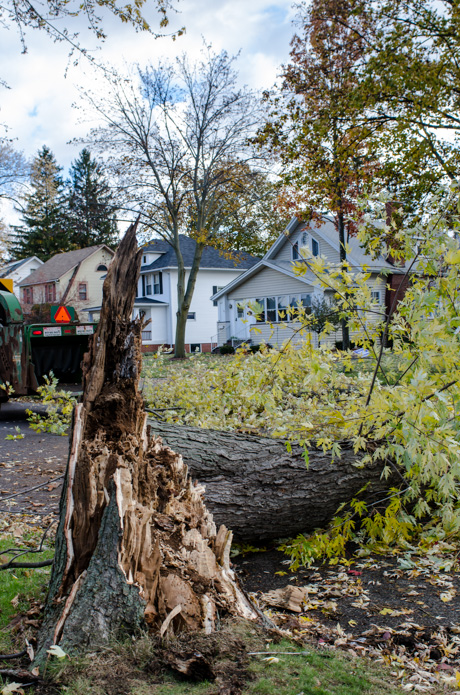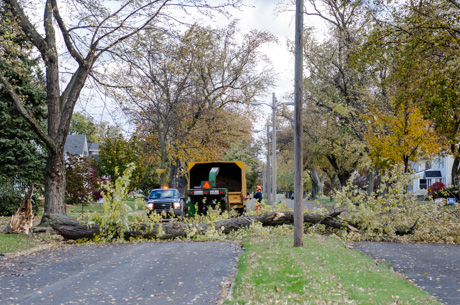 UPDATE12:02 p.m.: Wires are hanging off a house and into the roadway at 2631 School St. in East Pembroke. The location is between East Avenue and Reed Road.
UPDATE 12:05 p.m.: Fire police are called in East Pembroke to close traffic at East Avenue and Route 5 and at School Street and Reed Road. There's also a tree in the road. National Grid has been notified.
UPDATE 12:13 p.m.: There's "a big mess" of tree branches in the roadway at Stegman and Slusher roads in East Pembroke. There's a tree down and an injured animal reported at 6827 Knowlesville Road in Alabama.
UPDATE 12:21 p.m.: The injured animal on Knowlesville Road has been extricated and the Alabama assignment is back in service. At the Wood Street incident, power lines are also down.
UPDATE 12:54 p.m.: A live power line fell on the lawn at 10840 Warner Road in Darien. At 2700 Attica Road in Alexander, a large willow tree branch is hanging over the roadway. A tree fell onto a house at 36 Redfield Parkway in the city.
UPDATE 1 p.m.: A big tree is reportedly down in the roadway on Meadville Road, north of Owen Road, on the Tonawanda Indian Reservation.
UPDATE 1:37 p.m.: Two more pictures from Redfield Parkway. City crews have actually had to handle today five downed trees or large branches on Redfield today. They've been making quick work of them.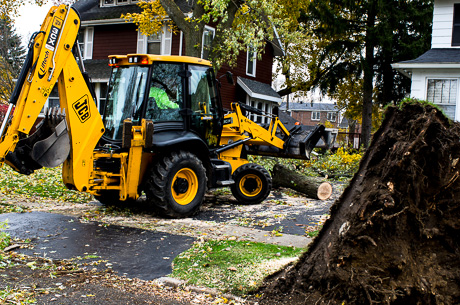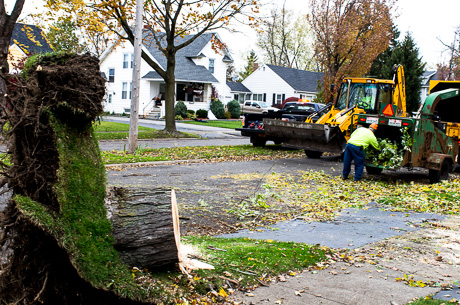 UPDATE 1:41 p.m.: There is a power outage on the Tonawanda Indian Reservatation affecting 201 customers. In East Bethany, 252 customers are without power, and in Bergen, 56. In East Bethany and Bergen, power should be restored by 3 p.m. Crews are assessing the situation in Basom.
UPDATE 2 p.m.: A tree has reportedly fallen on a house at 50 Ellicott Ave. in the city. Wires may also have fallen.
UPDATE 2:11 p.m.: Lear Road in the Town of Batavia is completely blocked due to downed trees and power lines. DPW is on scene. Also, Le Roy police received a complaint that someone has on open burn going at 84 Myrtle St. Le Roy PD is on scene.