While some like it hot, Salsa & Curry offers cuisine suitable to those who walk on the milder side
Submitted by Howard Owens on September 12, 2012 - 5:09pm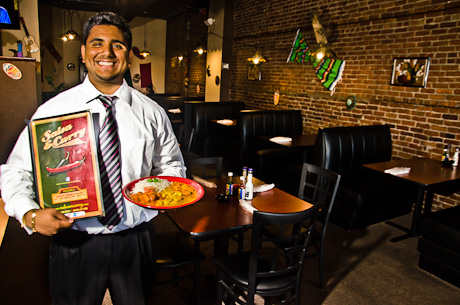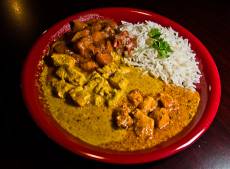 A year or so ago when the Rathod family opened Salsa & Curry on Jackson Street, Downtown Batavia, they offered only a few Indian dishes along with a full menu of Mexican food items.
With no Indian restaurants in Genesee County, the Rathods weren't sure how the unique cuisine would be received.
It turns out, it was received very well.
After closing for a few weeks while the family traveled to India for a wedding and then did some minor remodeling, Salsa & Curry reopened a week ago with a daily buffet of Indian food, more Indian food items on the printed menu and slightly fewer Mexican food items.
While Indian food has a reputation for being spicy -- and WNYers have a reputation for not liking spicy food -- not all Indian dishes are spicy, or need to be prepared with a hot flavor.
The buffet features only mild items.
What the Rathods have learned, however, is some kick has its place.
"We were actually surprised -- a majority of people like it spicy," said Sonny Rathod, who is managing the restaurant with his brothers Raveen, Nick, sister Anupa Hirani and her husband Peter.
Customers who don't want to partake of the milder buffet can order spicy alternatives prepared immediately in the kitchen and over the past week that's exactly what a lot of customers have requested, Sonny said.
Meanwhile, in a couple of weeks the restaurant will have a liquor license and will be able to serve domestic, Mexican and Indian beer as well as margaritas.
The restaurant is open Monday through Friday 11 a.m. to 9 p.m., Saturday until 10 p.m. and Sunday, Noon to 7 p.m.
September 13, 2012 - 7:17am
#4
O... M... G! They are back open and I didn't even know!!! I am a bad customer! Though very loyal... I have not gone to any other Mexican or Indian restaurant during their down time!
I've been CRAVING Salsa and Curry and was crushed when they closed for the wedding/remodeling (though, very happy for them)! I am SO going there ASAP!!
There is NO comparison when it comes to Salsa and Curry!! They have wonderful staff, a great atmosphere and it absolutely goes without saying - EXCELLENT food!!
My hubby's and my favorite is the Fajitas for Two, no beans, no guac, extra rice and tortillas!
Yay! Knowing they are back open has truly made my day!!