Western New Yorker walking to Yankee Stadium to help fight Lou Gehrig's Disease
Submitted by Howard Owens on July 12, 2011 - 10:33am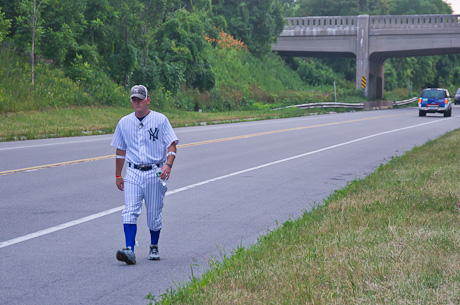 Matt Mondoux, a resident of Grand Island and an Iraq and Afghanistan veteran, is walking for Lou.
Mondoux, who passed through Genesee County yesterday, is walking the width of New York, all the way to Yankee Stadium, in order to raise money for research into Lou Gehrig's Disease.
"When you see a bunch of people who aren't getting the kind of help you think they deserve, you realize they need somebody who isn't directly effected by the disease to help out," Mondoux.
Lou Gehrig's Disease wasn't something Mondoux paid much attention to until a friend was diagnosed and he started doing a little research.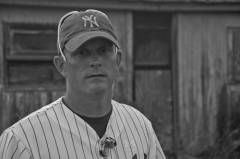 He said reading the blogs of victims raised his awareness and concern for people who have been afflicted.
"Reading up on it, I got kind of emotionally attached," he said. "It was kind of sad that even though I'm a New York Yankee fan, I didn't know exactly what Lou Gehrig's Disease was."
Mondoux served 10 years in the Army, but works now at a Seneca-Niagara casino. While he said his employer has been exceptionally supportive of his walk, the 14 days he's taking for the trek is an unpaid leave of absence.
People along the route have already been incredibily supportive, he said.
While he stopped in Bethany and spoke with a reporter, somebody drove up and handed him $2, apologizing that he didn't have more money with him.
A guy walking down the road in a Yankees uniform gets a lot of attention, Mondoux said.
Once he arrives at Yankee Stadium, Mondoux will attend a game using donated tickets. He hopes to be able to get all of the Yankee players to sign his jersey.
If he can raise $2 million, he said, he would like to donate the jersey to the Baseball Hall of Fame in Cooperstown to help raise awareness of Lou Gehrig's Disease.
"I'll even give them my lucky hat," he said.
He bought the Yankees cap on Sept. 11, 2001, just outside of New York City -- he could see the towers burning that day from where he was, he said.
"It's been with me everywhere," he said. "It's been with me in Iraq and Afghanistan. I wore it the day my daughter was born. It's been everywhere, from Europe to Las Vegas."
Now it's going to Yankee Stadium.
To donate and to track Matt's progress, visit Walking4Lou.com.