Turnovers key to Lancers' victory over Pembroke
Submitted by Howard Owens on September 15, 2013 - 12:21am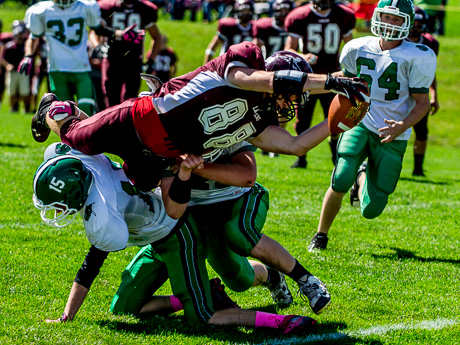 Coming into the second half Saturday in Elba, it seemed like anybody's game.
Turnovers helped stymie both offensives in the first two quarters of the Elba/Byron-Bergen vs. Pembroke matchup and the Lancers held a slender 7-0 lead.
Mike Cintorino, head coach for Elba/BB, said his team made some adjustments at the half and came out ready to play.
That play included two key interceptions by Austin Yockel. On one, Yockel returned the ball to the red zone, setting up a core and in the other he went the distance himself for six.
The Lancers were dominant in the second half in a way they weren't last week in a 23-6 loss to Alexander.
"It's a home opener," Cintorino said. "Just like Alexander was fired up last week to open up at home, I think our guys were excited to open up at home. We've always opened up better at home. I think we've never opened up on the road and won a game, at least since I've been here."
Turnovers are what doomed the Dragons, Head Coach Justin Loeber conceded.
Twice in the first half, Pembroke snagged the ball from the Lancers only to give it right back, and turnovers in the second half were directly related to Elba/BB scores.
"We played a good, young football team," Loeber said. "They hit hard. They're physical. We made too many mistakes on the defensive side and too many turnovers on offensive. Too big plays on defense, other than that, it's a 13-7 ball game."
Lancers QB Garrett Chapell was 6-12 for 172 yards and three TDs. He had one interception and one fumble. Kyle Dougherty caught four passes for 135 yards and two TDs (including the first quarter score in the top picture). Yockel had two catches for 37 yards and a TD. Brandon Naylor rushed for 76 yards on 16 carries with one touchdown. Steele Truax had 13 tackles and two forced fumbles. Dougherty had 13 tackles. Andy Underhill had 11 tackles and one forced fumble. Hunter Tayler had six tackles and two sacks. Mike Shanley had three tackles, an interception and a fumble recovery.
On offensive for Pembroke, Tyler Bruning was nine for 17 for 79 yards and one TD. He threw three interceptions. Dakota Swimline carried the ball 16 times for 28 yards. Zack Kelsey had one 14-yard TD reception.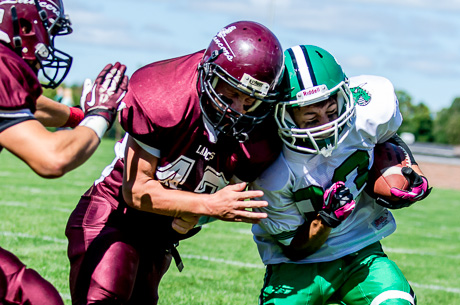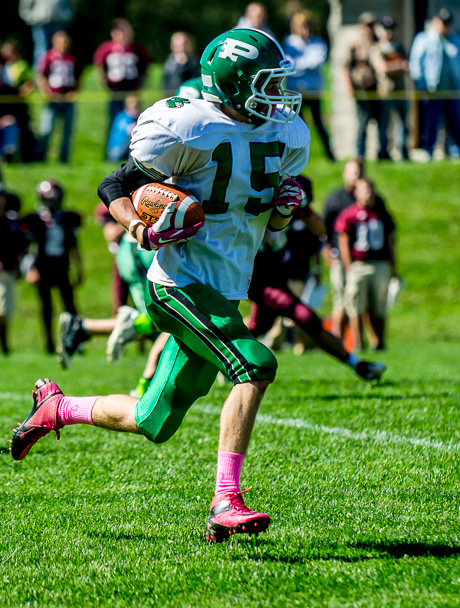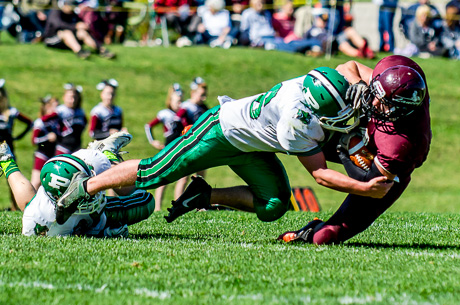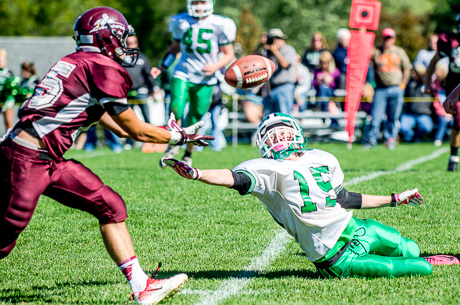 One of Yockel's two second-half interceptions.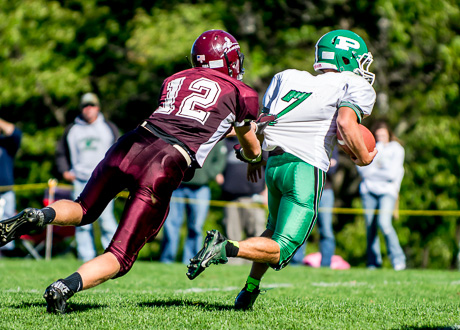 To purchase prints of photos, click here.
September 15, 2013 - 4:00pm
#2
What was the final score? I don't see it in the article.