Troop A now accepting unused prescription drug drop-off at State Police Barracks in Batavia
Submitted by Howard Owens on August 31, 2012 - 4:37pm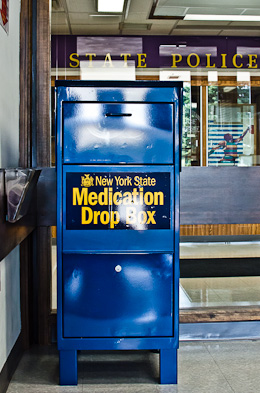 Press release:
New York State Police Troop A will now accept unused and expired prescription drugs as part of new legislation enacted by Governor Cuomo to help fight prescription drug abuse.
Effective immediately, citizens can go to the Troop A Headquarters, SP Batavia, to dispose unwanted prescription drugs as a result of the governor's initiative.
This self-service medication drop box will allow the public to safely and anonymously dispose of unused or unwanted prescription medications, keeping it out of the hands of those who may choose to abuse it.
Items that can be dropped off include: prescription medications, medicated ointments, over-the-counter medications and inhalers. Hazardous materials and needles are NOT accepted.
The Medication Drop Box is located in the front lobby at SP Batavia, located at 4525 W. Saile Drive.
The abuse of prescription medications continues to be an issue facing the citizens and law enforcement agencies of New York State. Governor Cuomo recently signed legislation to help fight prescription drug abuse.