Tom Turnbull introduced as chamber president after first official day on the job
Submitted by Howard Owens on October 7, 2013 - 9:36pm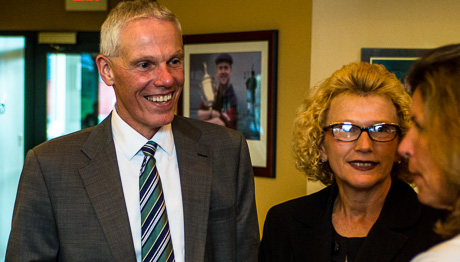 For the first time in a long time, Tom Turnbull experienced a "first day on the job" today.
Thirty-eight years after a "first day" with the Batavia Daily News, Turnbull was the new guy trying to figure out where the supply of pens and paper clips were stored in the offices of the Genesee County Chamber of Commerce.
Turnbull replaces Lynn Freeman, who retired, as chamber president.
"I've always had a deep love for the chamber and have always been involved," said Turnbull during his introduction mixer at Terry Hills.
The way Turnbull sees it, he's taking over a great organization that doesn't need an overhaul.
"Our chamber is one of the best run in the state and that one was of the things that excited me about taking this job," Turnbull said. "Lynn and the staff have done a great job. The way I look at it is I'm just going to take the baton and keep on running."
The chamber, he said, plays an important role in supporting the business community because a strong business community ensures a better quality of life for everybody.
The chamber's function includes training for small businesses, representing business to elected leaders and providing networking opportunities for business owners and employees.
"There's strength in numbers and I think that's what a group like the chamber does for the small guy," Turnbull said. "You have 600 members and there's strength in numbers for advocacy, working with government and getting your views out. Also we can bring a lot of seminars, a lot of training that small companies can't usually afford to do on their own."