Suspect in East Avenue burglary turns himself in following investigation
Submitted by Howard Owens on October 25, 2012 - 7:51am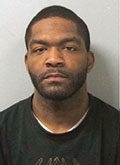 A burglary suspect turned himself in yesterday following a police investigation into a break-in at a residence on East Avenue in the city on Oct. 9.
Trevon L. Armstrong, 27, of 20 Tracy Ave., Batavia, is charged with burglary, 2nd, and grand larceny, 4th.
Det. Charles Dudek investigated the case, identified Armstrong as the suspect, and asked him to turn himself in. Yesterday, he did.
A flat-screen TV and a laptop computer were recovered shortly after the burglary was reported, Dudek said.
Armstrong was arraigned in Batavia City Court and ordered held without bail.
Officer Mark Lawrence assisted in the investigation.