Submitted photos: Byron Fire's MCI training
Submitted by Howard Owens on August 30, 2012 - 4:49pm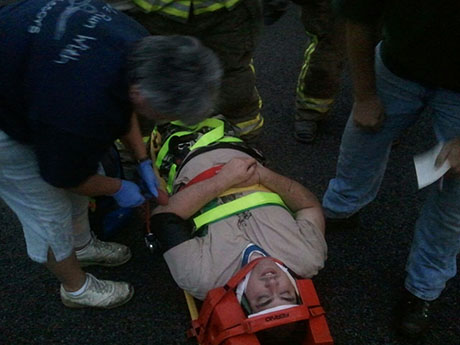 Charles Durkee, 1st assistant chief with the Byron Volunteer Fire Department, sent in these pictures from his department's weekly training.
Here's what he had to say about the training:
Monday night Byron Fire Department came together to practice what is known as an MCI (Mass Casualty Incident). A Mass Casualty Incident can be defined as an incident that has produced more casualties than a customary response assignment can handle.
It is handled in four stages and sometimes more, depending on size and nature of the MCI:
1) INITIAL TRIAGE, examining who is hurt the worst;
2) PATIENT EXTRACTION removal of the victim from whatever they are trapped in
3) SECONDARY TRIAGE/MEDICAL TREATMENT getting a better assessment of the patients' welfare and if one of the victims may have to be reclassified sometimes for the better or worse;
4) TRANSPORTATION OF PATIENTS whether to transport by air or ground and to what hospitals.
At times we actually "get" something; maybe we respond to a house fire or a damage accident, or we run a good code. We certainly can bring these incidents to successful conclusion effortlessly, but at the end of the day, that is what the public expects.
We will not be judged on those routine undertakings. Our true value as emergency responders will be revealed in our ability to handle more extreme circumstances. This is why your volunteers spend many hours training.