Students put behind the wheel of a simulator to learn about the dangers of distracted driving
Submitted by Howard Owens on October 24, 2012 - 3:05pm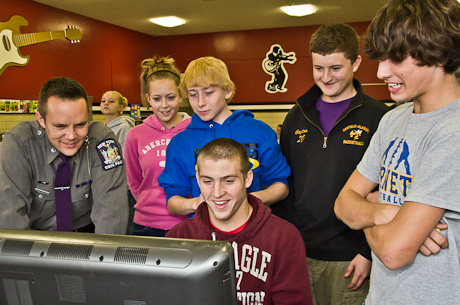 Students at Oakfield-Alabama High School got a little firsthand experience today at trying to drive while distracted and State Police and Nationwide Insurance hope they get the message: Don't do it.
The insurance company, in conjunction with the State Police, brought in a computer simulator that allows students to put their hands on a steering wheel and drive through a neighborhood while dealing with multiple distractions.
There's the friend they're giving a ride home who won't wear her seat belt, talks incessantly and wants them to drive faster so she can get home sooner.
She also asks them to try phoning her brother and then sending him a text message. The phone pops up on the screen allowing them to finger-tap in numbers while keeping one hand on the steering wheel.
Meanwhile, deer and skateboarders cross their path, they must stop for a stop sign in front of a cop, pull on a freeway and merge into traffic.
"Distractions take away the focus of being in that car and driving, and when you take away that focus, that's when accidents happen," said Trooper Jeffrey Bebak.
Bebak said for teens, distracted driving can be a particularly deadly combination.
"They all feel they're invincible," Bebak said. "In a general health perspective, they're young, they feel great, they feel like they can do multiple things at once, including driving.
"You couple that with just their basic inexperience behind the wheel and you add the texting or use of a mobile device, it's a bad combination. Too often that's when accidents happen because of that feeling that I'm invincible."
Michael Granica, a financial specialist with Nationwide, said he's been involved in the simulation presentation before and he believes the simulator is making a difference.
"We had several students come back to us after the program and tell us that they thought about putting their phones down and they haven't used them since," Granica said. "So if we're able to change the habits of one person while they're driving, everything we've done to promote safe driving has been worth it."