Stafford holds annual dinner, honors top firefighters and responders
Submitted by Howard Owens on February 24, 2013 - 7:32pm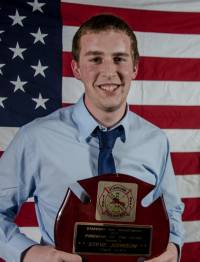 The Stafford Volunteer Fire Department held its annual awards and installation dinner Saturday night at the Clarion Hotel.
Firefighter of the Year was Stephen Johnson (left).
Also receiving awards were Tim Eckdahl, Chiefs Award, and Stephanie Call, Special Recognition. Eli Dawson had the most fire/rescue training hours and Bob Mattice had the most EMS training hours.
The top 10 responders for 2012 were Tim Eckdahl, Eli Dawson, Don Hall, Tom Snyder, Stephen Johnson, Dave Rumsey, Ryan Lokken, Chris Bobo, Jamie Call
and Mike McDonald.
John Woodworth Sr., received a 50-year Service Award.
During 2012, Stafford responded to 213 calls. Those calls were 159 rescue calls (including motor-vehicle accidents), 14 fires, 11 calls for service, 12 hazardous conditions, 10 good intentions and seven false alarms. Those calls added up to 942 man hours.
Department members completed 2,238 training hours, which was fourth highest among the departments in the county.
To purchase prints of the photos, click here.