Soccer: Geneseo comes out on top in match of unbeaten teams in Pavilion
Submitted by Howard Owens on September 20, 2013 - 11:15am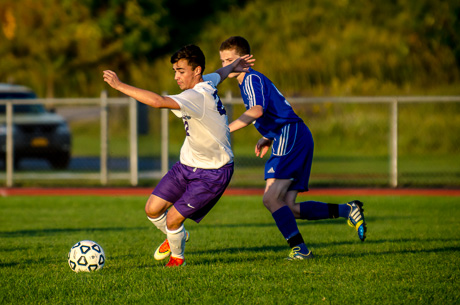 For the first 74 minutes of play Thursday in Pavilion, two teams on the pitch with 3-0 records kept the score knotted at 0-0 and it was starting to seem like a tie was a predictable outcome.
Then Geneseo's Elliott Cannon scooted a ball past senior goalie Collin Sheflin. Another goal two minutes later by Mo Carlon, with only four minutes on the clock, seemed to seal the fate of the Golden Gophers.
"Genesee has been building a great program for years," said Pavilion Head Coach Matt Roth. "They seem to graduate players with another junior right behind who is good. We're working on doing the same thing here, but it takes time. We worked hard tonight. The better team, probably, ended up winning, but they didn't out work us."
Coming into the game, Pavilion had given up only one goal in its first three games. That was in a 2-1 win over Mount Morris. Pavilion has beat Pembroke 6-0 and Avon 3-0.
"Jake Defisher, Heyden Ewell and Stephen Pike work hard on defense," Roth said. "We've only given up three goals and two of them were tonight, so when you have that kind of defense, you're going to be in most games."
Riley Vallance has been working hard, too, Roth said. He's played every position this season and on defense against Pavilion he played a big role in keeping the game close.
Dakota Kegler, a midfielder, has also been working hard this season, he said.
Pavilion is now 3-1-1 on the season and Roth is expecting a good run for the team come time for sectional play.
"Our goal is to build, to be playing our best soccer in October," Roth said. "Right now, we're not where we want to be, but if we get there in mid-October when sectionals come, we're going to be a dangerous team in sectional play."
Pavilion's next game is at home, tomorrow, 1 p.m., against York.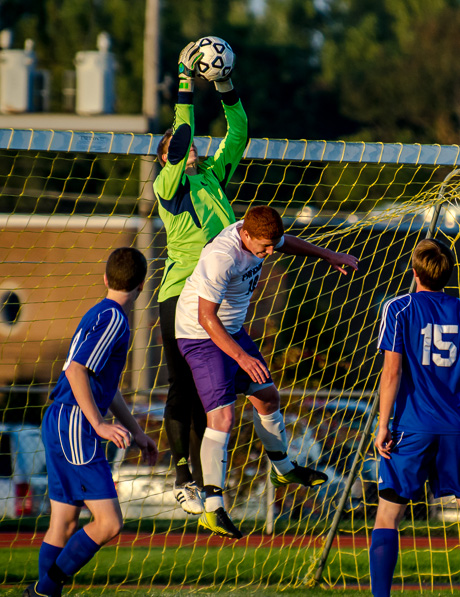 Pavilion's goalie grabbing a shot in the first period.
To purchase prints of photos, click here.