Six-year-old grows her hair long so another little girl might have bows in her hair
Submitted by Howard Owens on August 29, 2013 - 8:49am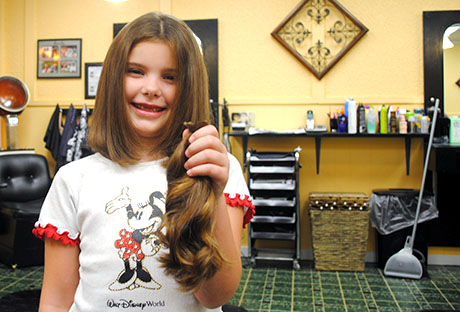 Six-year-old Emily Lokken of Le Roy has spent a lot of time in hospitals over the course of her young life. She's had 12 major surgeries at Golisano Children's Hospital, at Strong and at Boston Children's Hospital. She is currently awaiting a kidney transplant.
With all of that time in children's hospitals, Emily has made friends with other children being treated in the hospitals. Those children often have cancer.
Emily's mother Sarah said one evening about a year ago, Emily said she wanted to grow her hair long.
"One night sitting in her hospital room Emily out of the clear blue said, 'Mom you know what?,'" Sarah recalled. "I said, 'No, Emily, what?' She responded, 'I know that I have broken kidneys and a lot of my friends have broken blood (meaning in her world cancer) and they have to take medicine and lose their hair. I have hair and my medicine does not make it fall out. So I want to grow mine long like Rapunzel and give them some of mine. This way they can wear happy hair bows and being sick won't be so bad.' "
Yesterday, a year after she started growing her hair like Rapunzel, she had it cut so her locks could be donated to another little girl who might like bows in her hair.
Information and photos submitted by Sarah Lokken.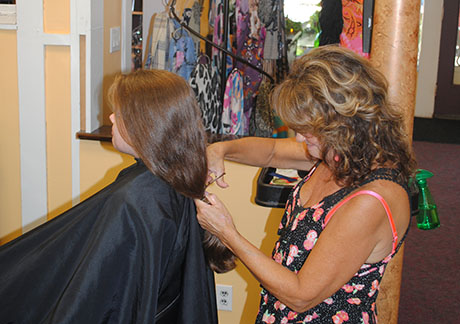 August 29, 2013 - 9:14am
#2
Gotta love that kid. Gotta love her parent(
...You don't get those kind of values from just watching Sesame Street.
August 29, 2013 - 11:23am
#3
This is a wonderful story and such a BEAUTIFUL and BRAVE little girl. I pray that she gets the operation she needs and that they find the perfect match for her. In this world today as we always hear about such bad things, it is so refreshing to read such a uplifting story about this sweet girl. She has the right perspective in life, even though she has a need of her own. We can ALL learn a lot from her kind and sweet spirit. We need a lot more like Miss Emily to show us all what is important.
My thoughts and prayers are with Emily and her family that she has a full and amazing recovery. Thanks for sharing your story with us and a thanks to Howard for putting it here so we can enjoy her great and beautiful smile!
August 29, 2013 - 1:01pm
#4
I'd do the same except that what little girl would want some old fart's salt and pepper colored hair to tie bows in LOL