Sheriff's Office pleased with results of DWI checkpoints that netted two arrests
Submitted by Howard Owens on March 19, 2012 - 10:48am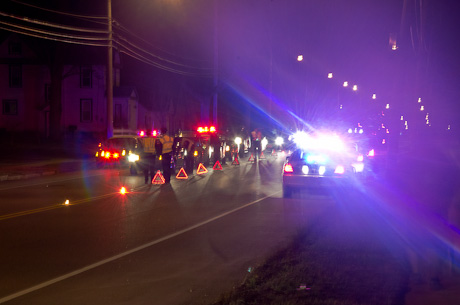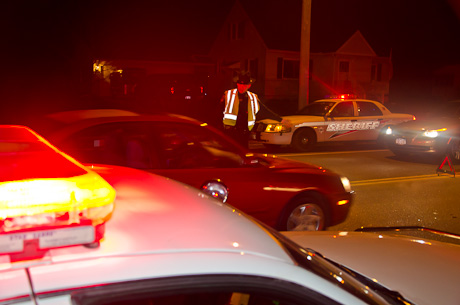 In one of the first-of-its-kind "enhanced" DWI check points in the state Saturday night, only two people were arrested for driving under the influence of drugs or alcohol.
Local law enforcement is considering that a success, according to Chief Deputy Gordon Dibble.
"The fact that people know we're out there helps," Dibble said. "A lot of people say, 'why put out a press release and let people know what you're doing,' but the whole idea is to cut down on drinking and driving."
The program was funded by a grant from the governor's office and was designed to make it harder for people to avoid the checkpoints.
The checkpoints were set up in three different locations -- all in the City of Batavia -- during the course of Saturday night, and extra patrols were in the area looking for people who might be trying to avoid the checkpoint.
When the checkpoints were moved, the patrols involved would engage in a period of saturation patrols looking for drunken drivers before the next checkpoint was set up.
Le Roy PD participated Saturday with extra DWI patrols in the village.
"Only 1 percent of DWI arrests come at checkpoints," Dibble said. "But what they do is raise public awareness as much as anything else."
The vast majority of people, Dibble said (as well as officers on scene Saturday night) were cooperative and even thanked officers for the extra effort to get drunken drivers off the road.
One misconception about the enhanced checkpoints that Dibble clarified is what conduct will lead an officer to stop a car.
Merely turning down a street prior to a checkpoint is not necessarily enough reason to stop somebody.
Dibble said there is case law dealing with the these kinds of stops. In one case, a car turned into a parking lot of a closed business prior to a checkpoint. That stop was upheld by the courts. In another case, a car turned down a street prior to a checkpoint and that case was thrown out.
"It makes a lot of sense to me," Dibble said. "What we tell our patrols is we want probable cause to pull somebody over anyways. Turning may warrant a closer look to see how they're driving, but we're going to look for how you are driving, how you're making a turn and do you appear like you should be on a highway."
During the course of Saturday night, the Sheriff's Office and Batavia PD set up roadblocks on Clinton and Oak streets, and Ellicott Street just west of Cedar Street.
Arrested on Saturday were Dale R. Maxwell, 51, of Hamilton Street, Albion, and Aaron R. Rodger, 23, of Ellicott Road, Caledonia.
Maxwell was charged with DWI, driving with a BAC of .08 or more and consumption of alcohol in a motor vehicle.
Rodger was charged with driving under the influence.
Additionally, 26 citations were issued, including citations for operating while registration suspended, unlicensed operation, expired inspection, consuming alcohol in a motor vehicle, unregistered motor vehicle, uninsured operation, uninspected motor vehicle, inadequate headlights, tinted windows, aggravated unlicensed operation, 3rd, and failure to yield right of way.
The governor's grant covers three more enhanced checkpoints this summer.
Dibble said the Sheriff's Office considers them a good idea and will continue to run them on high profile weekends when they can do the most good.
"It's all about keeping our highways safe for the people," Dibble said. "We want people to have a good time and to get home safely. That can easily be done with a little forethought and a little planning ahead."
March 19, 2012 - 11:29am
#4
Actually, law enforcement's number 1 job is prevention. All the hoopla, the increased patrols, NO DWI DEATHS, NO MAJOR ACCIDENTS money very well spent I say