Sexual predator facing a possible life sentence after pleading guilty
Submitted by Howard Owens on February 24, 2012 - 10:28am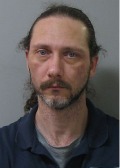 A 45-year-old Bergen resident accused of being a child sex predator is facing a possible sentence of life in prision after pleading guilty this morning to a single Class A-II felony.
The minimum possible term for Stephen Irvine Stone is 10 years to life in prison, and the maximum mandatory sentence is 25 years to life.
Stone entered his guilty plea unconditionally in exchange for prosecutors not pursuing additional charges -- either those he's already been accused of, or others that might come from further investigation.
Stone was arrested on the first group of charges at the end of December, when he was accused of sodomy, 1st, rape, 1st and criminal sexual act, 1st. The charges stemmed from acts going back to 1997.
New charges were added in January when Stone was accused of predatory sexual assault against children, criminal sexual act, 1st, and criminal sexual act, 2nd.
In Genesee County Court today, Stone admitted to a sexual act with a child 13 years or younger.
As part of the plea deal, Stone agreed to provide the mother of his children with a power of attorney to sell his property for the benefit of the household.
Sentencing is set for 1:30 p.m., April 19. He remains jailed without bail pending sentencing.
February 24, 2012 - 10:41am
#2