Sexual abuser said to show little remorse, given 20 years to life in state prison
Submitted by Howard Owens on April 19, 2012 - 2:10pm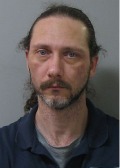 The picture that emerged in Genesee County Court this afternoon of Stephen Irving Stone was that of a 45-year-old man with little remorse and with little understanding that sexual abuse of children is wrong.
The only positives Judge Robert C. Noonan found in Stone was that he has no other criminal history and that by pleading guilty Feb. 24 to predatory sexual abuse he saved his victims from the torture of testifying in open court.
For those "limited reasons," Noonan said, he took a little time off the possible maximum sentence and sent Stone to prison for 20 years to life.
Stone's only words in court came after Noonan asked if he wanted to make a statement.
"No, your honor. It is in your hands, sir," said Stone, who came into court with a fully grown beard and shackled and in a jail orange jumpsuit.
The sentencing range available to Noonan was from 10 years to life to 25 years to life.
Assistant District Attorney Kevin Finnell spoke at length about Stone.
"When I read the PSI (pre-sentence investigation report), I came away with three thoughts," Finnell said. "This is a defendant who rationalizes, who minimizes and who fails to accept responsibility."
"I saw nothing," he added, "that said he expresses any kind of remorse or concern for his victims."
Defense Attorney William Harper said he had a slightly different read of the PSI, that Stone had "in his limited ability to do so" expressed remorse and that just prior to his arrest, he had come to the realization that what he was doing was wrong.
"Mr. Stone was indoctrinated into this behavior from an early age by multiple abusers," Harper said. "By his teenage years, he thought it was normal. In my last conversation with him, he told me he is full of regret."
Noonan said Stone's prior abuse was no excuse for his behavior, but noted that his own victims stand a better chance of being able to move on with their lives because Stone was caught, and they were willing to tell investigators what happened and will now benefit from more modern treatment programs.
"This case is one of the most vile set of circumstances I have had the responsibility to be involved in," Noonan said.
"It's amazing to me," he added, 'that a person could have such callous disregard for other human beings."
Noonan said the details of the crimes -- more than 100 acts over a several year period -- that Stone admitted to as "so disturbing" that he couldn't refer to the descriptions in public.
April 19, 2012 - 8:38pm
#2
Have a nice trip!!! Sat hello to Bubba!!
April 20, 2012 - 7:01am
#3
Oh please - - he's 45 years old and only JUST came to the realization (prior to his arrest) that what he was doing was wrong ???? - - OH PLEASE. 20 to life - - I hope he spends the REST of his LIFE in prison. He's RUINED so many OTHER LIVES. There's a special place in hell for people like him.
April 20, 2012 - 7:47am
#4
I agree with Irene I suffered some abuse as a child myself. Others in my circle of friends even more so, yet we find ourselves hating abuse and sometimes even unwilling to raise a hand in defense because of what we went through and being unwilling to do that to others. If anything he should have realized that what happened to him back ten was wrong, and hated when he did the same to others. No his abuse was vengeful, figuring he went through so he will damn well make others suffer. That type of personality needs to be removed from public. He doesnt live in a vaccum he sees what society considers heinious and unacceptable yet still chose to do what he did.
As Irene said......JUST came to the realization just before arrest....yeah sure you did. This is what jail is for to make sure those that dont want to get help and endanger the public around them end up in an institution that can at least attempt to correct that behavior. While keeping the rest of the public safe.