Sentenced yesterday on one burglary charge, Batavia man accused of stealing smartphones
Submitted by Howard Owens on October 30, 2012 - 7:56pm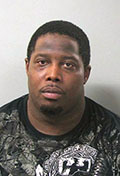 A Batavia man who yesterday received the lowest possible sentence from Judge Robert C. Noonan for burglarizing a friend's house earlier this year, is now a suspect in a burglary at the Sprint store on Veterans Memorial Drive.
Justin C. Smith, 36, of Hutchins Street, Batavia, already in custody awaiting transfer to state prison to begin serving a three-year term, was arrested by the Sheriff's Office today and charged with burglary, 3rd, and grand larceny, 4th.
According to investigators, Smith is suspected of stealing two Samsung touch screen cellular telephones from a display stand near the front door of the Sprint store at 4140 Veterans Memorial Drive.
Deputies had responded to the location after a burglary alarm at 10 p.m., Oct. 18. Nobody was in the store when they arrived, but they did discover the alleged theft.
A store employee reported that during regular business hours the previous two days, three additional touch screen phones had been stolen.
Smith is suspected of stealing one phone Oct. 16, two Oct. 17 and two more during the Oct. 18 burglary.
Yesterday, Noonan, whose assessment of Smith was based on a pre-sentence probation report, said that Smith was an example of what happens when a good person gets mixed up with drugs.
Because Smith had a prior non-violent felony conviction in 2007, the minimum sentence available to Noonan for Smith was three years.
Noonan would not necessarily have known about the pending investigation at the time of sentencing.