Second suspect charged in alleged marijuana growing operation in Le Roy
Submitted by Howard Owens on June 5, 2013 - 4:21pm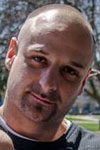 A second person has been accused of illegally growing marijuana in Le Roy following a raid Friday of a residence on East Main Street, across from Wolcott School.
Charged with unlawful growing of cannabis, a Class A misdemeanor, is 33-year-old Michael J. Penvose.
Penvose was in the news in April after he was accused of stealing a thermometer from Le Roy's Dollar General store. Penvose told officers he stole the thermometer because he had a sick infant daughter. A Le Roy police officer purchased the thermometer for Penvose.
Members of the the Local Drug Enforcement Task Force, assisted by Le Roy PD and Sheriff's deputies, executed a search warrant on the Penvose residence and because of the uncertainty of what might occur during a law enforcement raid, officials asked that students at Wolcott "shelter in place."
Penvose was also cited for alleged unlawful possession of marijuana and issued an appearance ticket on both charges.
Sara Schimley, 23, was home at the time of the raid and also charged with unlawful growing of cannabis, a Class A misdemeanor, and unlawful possession of marijuana.
June 6, 2013 - 12:32pm
#2
I remember seeing his face before.