Scouts take on local projects in preparation for annual jamboree
Submitted by Howard Owens on June 9, 2013 - 10:37pm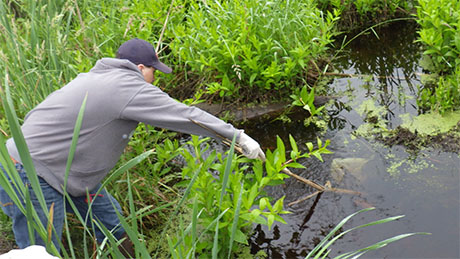 Photos and article submitted by Alex Hansen.
Next month, 70 Boy Scouts from the local Iroquois Trail Council will be converging with over 50,000 other scouts and leaders from around the world at the National Boy Scout 2013 Jamboree. This will be the first Jamboree to be held at the Bechtel Summit Reserve, a new world-class facility in West Virginia.
Separated into two troops of about 35 boys each, the scouts and adult volunteers of the Iroquois Trail Council performed service projects on Saturday, June 8th. Troop A worked on projects at the Bergen Swamps, and Troop B worked at the Iroquois National Wildlife Refuge in Basom. The goals of the day of service were to give back to the community with a focus on improving local outdoor facilities, and to help the boys get to know one another better.
In order to go to the Jamboree, the boys have been saving and earning funds to pay their own way for their trip of a lifetime. This day of service was the last opportunity to seek sponsors, with half going to pay for Jamboree expenses, and the other half going to benefit local veterans organizations.
Top photo: Dylan Scroger, 17, of Batavia retrieves a plastic bag from the swamp.
Below: Chris Neal, 12, of Batavia picks up a discarded soda can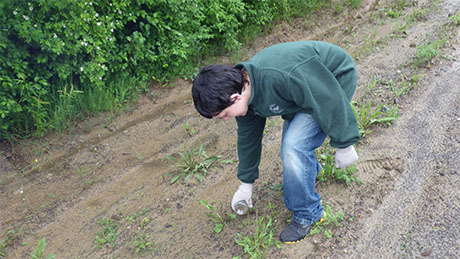 Alex Hansen, Iroquois Jamboree Contingent correspondent, is a Life Scout in Troop 6069 in Batavia, and a student in the class of 2016 at Notre Dame High School.
June 10, 2013 - 6:50am
#2
Have fun guys. Attending a national jamboree is one of the best memories of my youth.