Schumer calls for more open milk trade with Canada during press conferance at O-AT-KA plant
Submitted by Howard Owens on February 18, 2013 - 3:51pm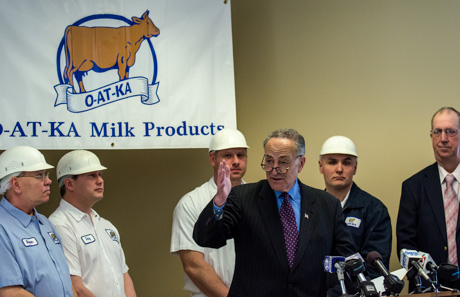 O-AT-KA Milk Products will soon complete a $16 million expansion of its production facility in Batavia, but the potential of the expansion could be hindered, Sen. Charles Schumer said today, if Canada enacts new trade barriers to milk products.
Schumer appeared at the plant today to publicize the issue and encourage U.S. trade negotiators to make fair trade in milk products a priority.
"The $16 million expansion not just to stay status quo," Schumer said. "Their (O-AT-KA) products are in large demand. The market in Canada and the market in the U.S. are very similar. Our tastes are similar, so this is an opportunity to grow and you don't want to stop it in its tracks. Many of the new products they're making are booming. Again, a whole new market of 30 million extra people right nearby would be really important."
O-AT-KA employs 300 people locally and at least 16 jobs are expected to be added with the expansion. The expansion will go forward to meet growing U.S. demand for nutritious milk products, company executives said, but there won't be as many new jobs and as much opportunity if Canada cuts imports of U.S. milk products.
"O-AT-KA has been paving a path of innovation for Upstate New York for years," Schumer said. "They've been taking the milk our farmers produce and turning it into new products that consumers demand. Rolling back trade access now could rip the rug out from under O-AT-KA's grand plans."
February 18, 2013 - 5:47pm
#7
seems to me canada knows how to protect its interests, its people, its commerce, too bad the represenatives we elect can't do the same for the american people...is chuck going to tell canada about the trade barriers we are about to lay on them?
i don't think so, our answer would be something stupid like "we can increase your foriegn aid".