Real harmony in Batavia with gathering of barbershop singers
Submitted by Howard Owens on August 27, 2013 - 8:50am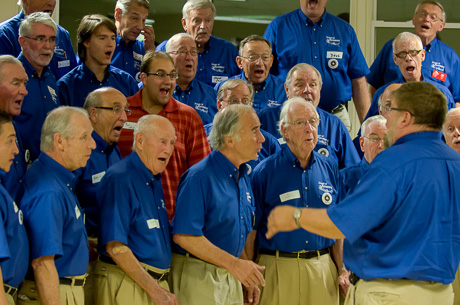 About 150 barbershop singers were at the YWCA on Monday night to celebrate the 75th anniversary of the Barbershop Harmony Society.
The singers came from five area chapters -- Rochester, Buffalo, East Aurora, Geneva, Warsaw, Batavia. The chapters are part of the Seneca Land District of the society, and Batavia resident Eric Saile, who acted as host for last night's event, is president of the district.
The event included lots of signing, of course, but also pauses to watch videos of barbershop singers in TV shows and movies from over the decades.
Our photos include the chorus, the Friends of Harmony Singers, singing "Singin' in the Rain."
The two young men in the bottom pictures are Rocco, 12, and Blaise, 10, Lucciano, of Clarence. Blaise became the youngest member of the society and was given a membership proclamation and a label pin. Rocco became the youngest member ever to be awarded the "Man of Note" pin. The "Man of Note" is a person who recruits a new member. The awards were presented by Mac Sabol, choir director for the Friends of Harmony Singers.
For more on the society, visit the Seneca Land District's home page. The Batavia chapter always welcomes new members, Sabol said.