Photos: Oakfield-Alabama football practice
Submitted by Howard Owens on August 27, 2013 - 6:18pm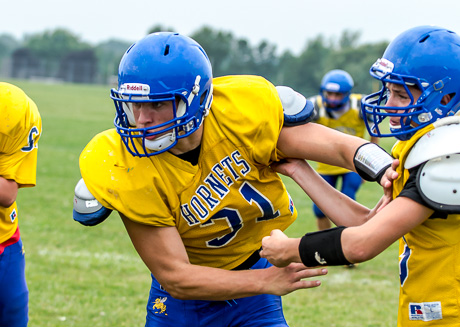 Coming off a 5-4 record, a young Oakfield-Alabama Hornets team is hoping to show some improvement in 2013, but already the injury bug is starting to pinch, said Head Coach Brian Palone.
Three players will miss this Saturday's scrimmage, but it will also be a time for some players at key positions to show whether they're ready to step into starting roles.
"I'm pretty confident in two or three kids at each position now, but I just want to evaluate further as we go along in the week here and as this scrimmage rolls," Palone said.
The Hornets will lean heavily on captains Chris Nanni, linebacker, Chase Manzella, running back, and Hogen Mejia, a lineman.
"We started bring guys a couple of years ago when they were young and now I feel like we have some guys with years of varsity experience, especially at our skills positions, so I'm happy with what I'm seeing right now and how they're developing," Palone said.
Manzella is in line for a QB slot, but Allen Chatt, who finished out last season as QB, has the inside track as the starter.
"He's been working hard this summer and so far working hard in camp," Palone said. "We'd like to keep him at quarterback and Chase at running back.