Photos: Miranda Fix book signing at Coffee Culture
Submitted by Howard Owens on October 9, 2011 - 10:14am
Miranda Fix was at Coffee Culture on Saturday signing copies of her new novel -- her sixth -- "Calling all Angels."
Fix, a registered nurse with 30 years experience, describes her new book this way: "It's about my story and my experiences as a nurse surviving in a profession that is full of illusions, disenchantments and despair. But deep inside that sadness is a rainbow of color and these shades of blues, yellows greens and reds are the true colors of our angels. They are there for us, they guide us, empower us, pray for us and keep us safe. They are there when you call upon them…you just need to ask them for help.
"Calling All Angels is a novel about true life and the amazing strength in the patients I have met along the way. Stories that will make you laugh and cry, but they are full of hope and wonder. I wish you love and happiness as in the ways of the angels…and remember to believe."
The mother of two children, and grandmother to three, Fix lives in Corfu.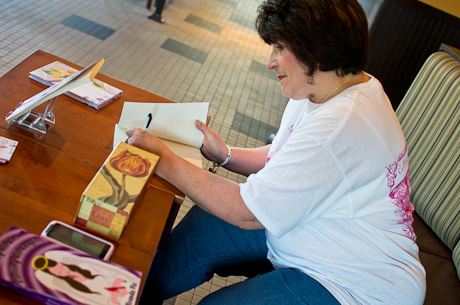 October 9, 2011 - 4:41pm
#2
Say someone wanted to procure a copy of this book and was unable to attend the signing?
October 9, 2011 - 8:56pm
#3
October 10, 2011 - 7:28am
#4