Photos: Kathy Hochul visits BHS, meets with art students, presents award
Submitted by Howard Owens on May 11, 2012 - 2:27pm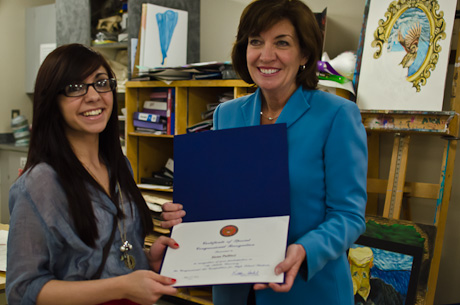 Rep. Kathy Hochul was in Batavia today, making three stops, including one at Batavia High School, where she presented an award to Siena Pullinzi, winner of the annual NY-26 Congressional Art Competition.
Hochul noted that Siena beat out students from five other counties in the district.
Siena's artwork is to be displayed in the halls of the Capitol for the next year. She will also now have the opportunity to visit Washington, D.C., to participate in a ceremony for Congressional Art Competition winners.
While at the school, Hochul stopped by both art classes that were in session and stopped to talk with several students, noting their good work and encouraging them to continue on with art.
At one point she stopped and said, "I can just feel the creativity in this room."
Besides BHS, Hochul spoke at a luncheon at Terry Hills for Independent Living of Genesee Region and this afternoon will visit Arctic Refrigeration, Genesee County Chamber of Commerce's 2011 Business of the Year.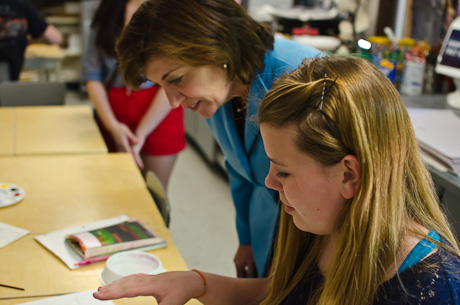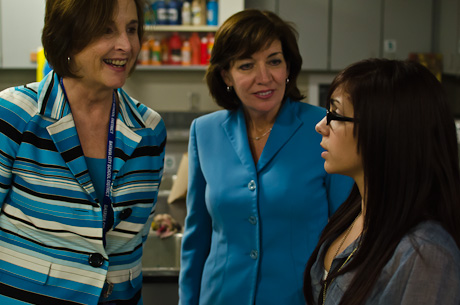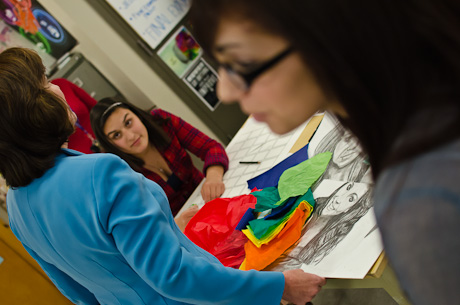 May 11, 2012 - 10:39pm
#2
Congrats again Siena! Uncle Mike