Photos: On the job, sealing a driveway
Submitted by Howard Owens on July 12, 2012 - 11:03am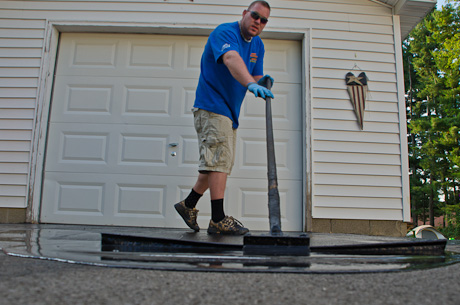 In California, I didn't see many asphalt driveways. For whatever reason, most homeowners there prefer concrete (weather, I imagine, is a factor).
It didn't take long after moving to Western New York to figure out that here asphalt is the preferred surface for driveways, and if you're a homeowner who takes routine maintenance seriously, you periodically get your driveway sealed.
A couple of years ago I suggested to Scott Kopper, owner of WNY Blacktop Sealers, that I come out to one of his jobs some time and take a few pictures and learn a little bit about why sealing an asphalt driveway is important. This morning, we actually finally got together for one of his jobs.
Here's what he told me: "A blacktop drive way is a big investment and you want to protect that investment. What blacktop sealing does, not only does it look good, but it makes your driveway more resistant to oil, gas leaks, power steering fluid, and it doesn't oxidize as quickly from the sun beating on it, which means it doesn't crack and break as easily. "
I was surprised to learn the sun does more damage to asphalt than winter salt and snow. Winter damage occurs when a driveway does crack and then ice gets into those cracks, expands and makes them worse.
Josh Dibble was helping Scott this morning at a residence on Vine Street.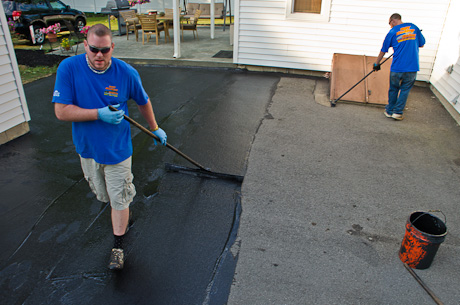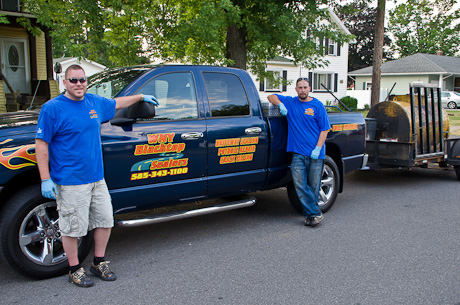 July 15, 2012 - 6:43pm
#2
He did my driveway & did a good job. Very polite man. Will have him back again when needed.
July 13, 2012 - 4:03pm
#3
That's a professional? Anyone who walks in fresh sealer is not professional. I know I used to do this professionally. Looks like he works himself into a corner. Not impressed.