Photos: East Pembroke fire completes surprise extrication drill on Stegman Road
Submitted by Howard Owens on October 1, 2013 - 8:03am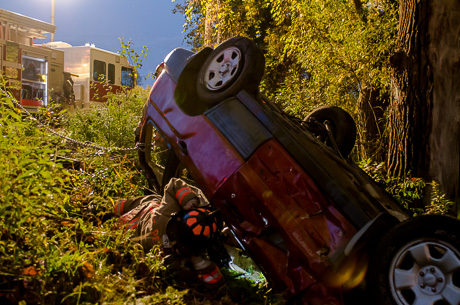 East Pembroke's volunteer firefighters arrived at the fire hall last night expecting just another Monday night of training and extrication practice.
Typically, a car would be parked behind the fire hall and firefighters would rip it apart as it sat, flat on flat ground.
Last night, Chief Don Newton thought he would throw them a curve. Just as they had unloaded the department's extrication equipment from the heavy rescue, East Pembroke's tones went off.
The report: A rollover accident on Stegmen Road.
It was a drill, but Newton figured the expected change of plans would get his firefighters in a different frame of mind.
"When we set something up as a drill, they're in response mode, they're in call mode, they're in extrication mode, they're looking for something better to do while on scene," Newton said.
Rather than dealing with a car on all four tires on flat ground, the firefighters are practicing in something like a real-world scenario: A car on its roof on a creek bank.
It makes for better training, Newton said.
To find out more about becoming a volunteer firefighter, visit ReadyGenesee.com.